Picking the right rocking horse for your child or grandchild can be a challenge.
I've written this rocking horse buyers guide to give you some insight into how I help people choose the right rocking horse without over spending. This information comes from my experience with the various rocking horses available, almost two decades of buying and selling rocking horses, and what my two children thought about them.
Why wood rocking horses?
Wood rocking horses last for generations and retain their value if you choose to sell it later.
While you can buy mass-produced rocking horses like a spring, plush or Radio Flyer at Walmart or Target, most parents want the uniqueness and quality that comes from a woodcraftsman who handmakes them today, here in the USA!
Personalized Oak Rocking Horse for Boys and Girls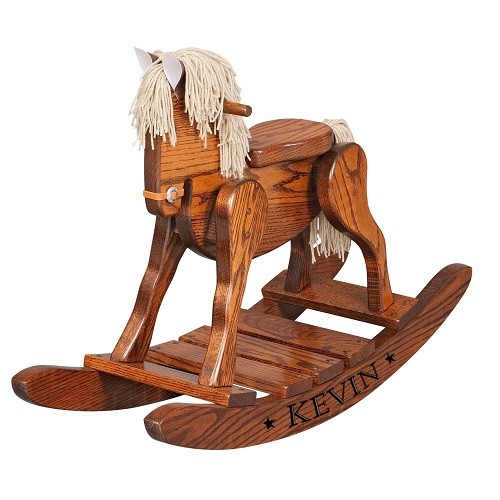 This solid oak rocking horse has plenty of positive reviews, is made in the USA and designed by LifeSong Milestones.
The unique thing about this particular rocking horse for kids and toddlers is it comes with personalized options. Have your child's first name engraved in the rockers and have the rockers painted blue, pink or remain wood stained.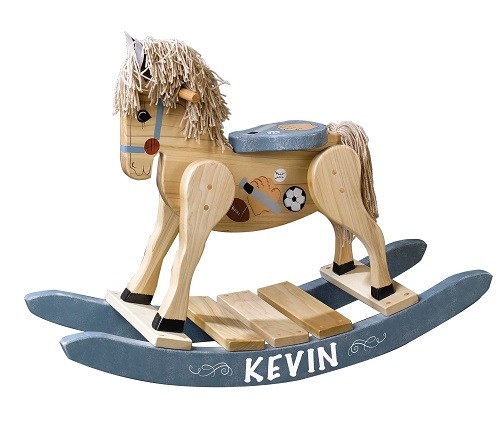 LifeSong Milestones is a family owned business founded in 2000 and located in Ohio. They provide a wide range of personalized products, most have positive customer ratings and reviews. 699 positive customer reviews managed by Yotpo, can be seen on their website here.
Returns and refunds: personalized products are not returnable unless there is a manufacturer defect or error, then you have 30 days. Non-personalized products can be returned.
Dimensions of rocking horse: 32" x 16" x 18" (l x w x h)
Comments from my kids:
Girl: "I like the name on the rockers and the colors and would want to ride it. If the butterflies have texture I would want to touch them."
Boy: "I like how it's made, the way the wood pegs connect the boards to the rocker and I like the color of the rockers with the name on it. And the shape of the legs and body looks realistic."
Pros:
Most orders arrive in 3-6 business days
Personalized with name and colors
No assembly required
Cons:
$398.97
Flat Seat Rocking Horse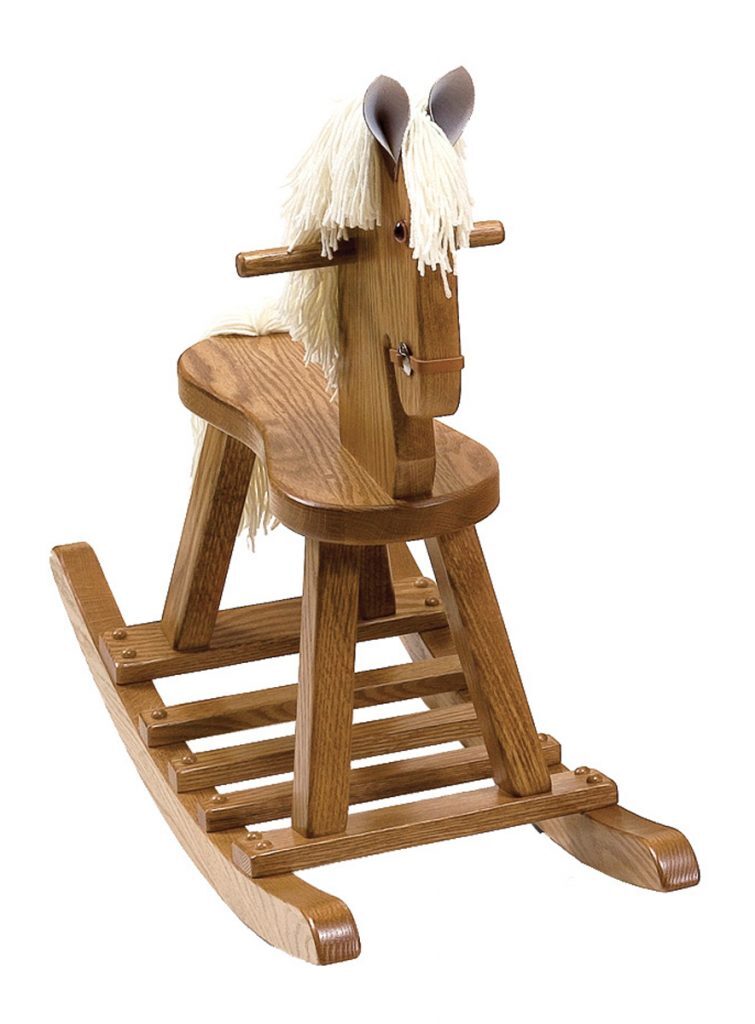 Here is a solid Oak rocking horse, made in the USA by Amish woodcrafters and distributed by Amish Outlet Store.
Each rocking horse is made to order and customized to your specifications.
Amish Outlet Store is owned and operated by the Hilty family of Smithville, OH. The furniture they offer is made by skilled Amish crafters.
"Every piece of furniture we sell comes with a 1-year guarantee against defects in materials and workmanship."
Returns are allowed within 10 days at the customer's expense. If in good condition a refund will be issued excluding shipping fees and a 15% restocking fee. Customized pieces are not returnable.
According to sitejabber, Amish Outlet Store has received 91.7% positive reviews in the past 12 months. Amish Outlet Store has a consumer rating of 4.65 stars from 1,295 reviews.
Dimensions: 36" length x 13.5" seat height
Comments from my kids:
Girl: "I like the fluffy hair on it. Since it's longer than the first one, it can rock more."
Boy: "The legs on this one don't look as good."
Pros:
Cons:
If none are in stock it can take 3 months to receive one.
$290
This Flat Seat rocking horse has been used but is in good condition.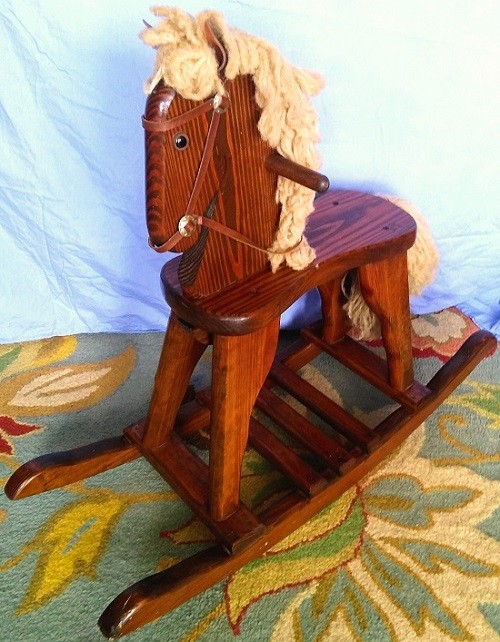 $190
Amish Deluxe Medium Rocking Horse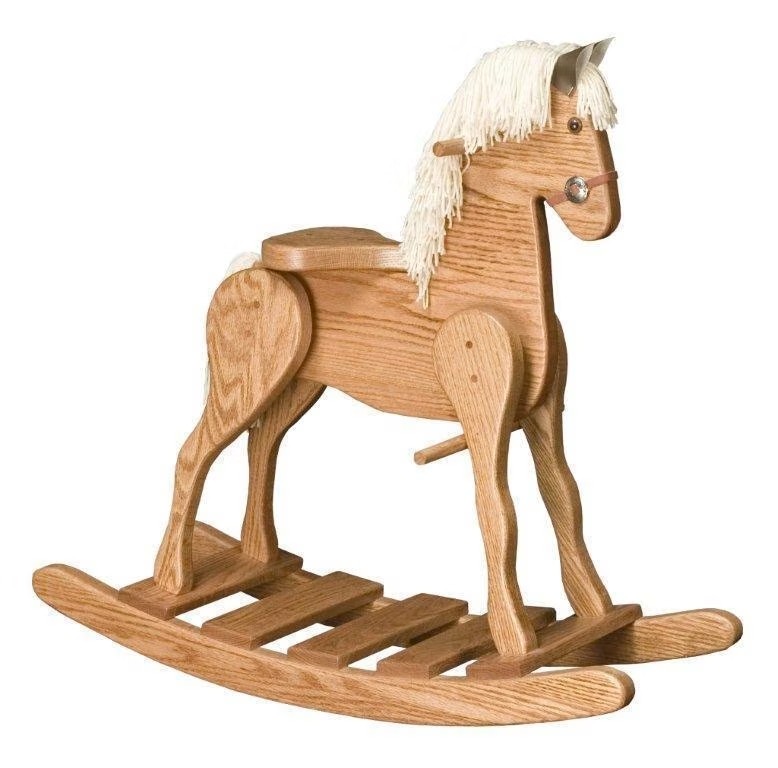 Another solid Oak rocking horse, made in the USA by the Amish and distributed by DutchCrafters.
DutchCrafters sources furniture from the Amish in Ohio, Pennsylvania and Indiana and began in 2003, owned and operated by JMX Brands in Sarasota, FL.
The curious thing about most Amish marketed products is that you cannot speak with the maker, presumably they don't have phones. But specifically with rocking horses I've found that many of the Amish rocking horse designs look very familiar. It's likely that they bought the rights to make those that have sold well in the past. It seems that way with this one, a fine seller from a decade or more ago, but now made by the Amish.
Returns are accepted within 10 days. There is a 15% restocking fee; the shipping fees are not refundable and you must pay the return shipping.
DutchCrafters receives mostly positive reviews from customers.
Dimensions of rocking horse: 34.5" x 14" x 34" (l x w x h)
Comments from my kids:
Girl: "It's taller so it might be too high for a two year old to hop on."
Boy: "I like the more realistic legs on this one. I like that it has a place to put your feet."

Pros:
Choose from six different finishes
Choose from two different mane colors
No assembly required.
Cons:
Takes 5 to 6 weeks to make and deliver
$468
S&S Woodcarvers Rocking Pony
S&S Woodcarvers is a fine name in rocking horses and known for quality. They stopped making rocking horses in the '90s but their many styles and sizes have retained their value as long as they are in good condition.
This rocking pony was made in 1983 and likely repainted in 1991, a good size for toddlers.
One feature this rocking horse has over the others is the no tip rockers.
It has some missing paint due to normal use, reflected in the reduced price.
Dimensions of rocking horse: 32" x 14" x 31.5" (l x w x h)
Comments from my kids:
Girl: "It looks like a carousel horse, it has engraving on it, pretty colors, the tail and the mane look very good and I like the pole to hold on to. I also like that this horse looks like it's running or galloping."
Boy: "Wow, it's fancy. Everything about it is realistic. I like the pole and that it's galloping, also the decoration on the side is nice. It looks like it's neighing."
Pros:
The artistic beauty of S&S Woodcarvers catches the eye and invites kids to ride.
No assembly required.
No tip rockers
Cons:
Shipping can cost more to protect it from damages.
$850
Summary
Girl: "I like the S&S Woodcarvers Pony and the blue and pink rocking horses for boys and girls because those two stand out the most compared to the others."
Boy: "I like the S&S Woodcarvers Pony most, it's well made and looks good."
My girl is 12 and boy is 10 (finally, beyond the toddler years), they have ridden lots of rocking horses, merry-go-rounds and know what they like and aren't shy about sharing it.

I manage Carousel & Rocking Horses bringing together buyers and sellers of hand crafted wood carved animals, rocking horses and carousel horses.