I've been buying and selling wood rocking horses for well over a decade.
From time to time people ask me, "How much money is my rocking horse worth?"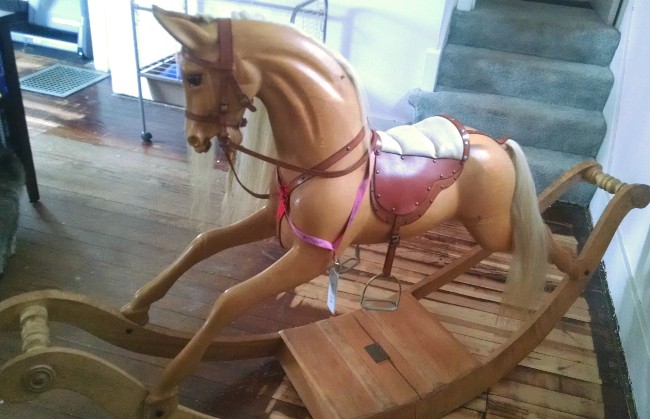 It depends, of course, but if you have a wooden rocking horse that is ridable, there's a good chance someone wants to buy it.
First, I'll highlight some of the styles, makes and types of wooden rocking horses that I have sold as well as those I tried to sell but could not.
Plus, I'll show you the exact rocking horse and include a link if you want to learn more about it.
Finally, I'll share a few secrets I've learned over the years to make the rocking horse attractive so it sells for a high price.
A little about me: rocking horse broker
I've been a broker of rocking horses long enough that I usually know whether it will sell as soon as I see it.
And price is not what I mean, some rocking horses will not sell at any price.
I typically work with two different types of people. The first type are owners who want me to sell their rocking horse for a commission.
Here's a few.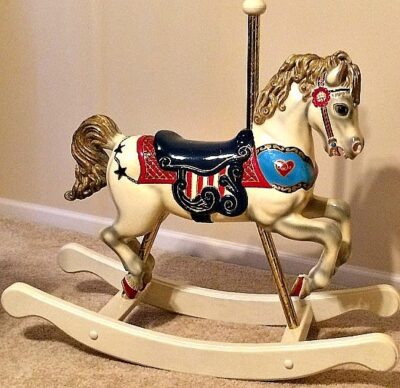 Did it sell? Yes!
This cute rocking horse was on my site for less than a week before it went to a family who bought it for their toddler.
The seller had this to say:
"I have loved horses all of my life and when i saw this piece in the store i wanted it because it was so pretty and a happy piece that just by looking at it I was transported back to the times I rode a carousel horse with the music playing, bright lights and these very colorful animals that seemed to possess a life of their own. I hope someone will enjoy it as much as i have."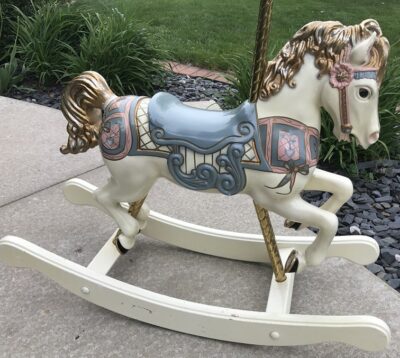 Did it sell? Yes!
This one was owned by a photographer who no longer needed it as a prop.
It was bought by a grandfather for his granddaughter.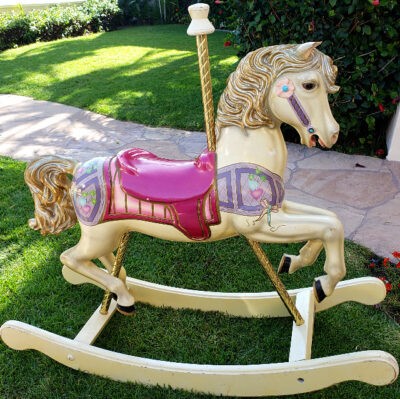 Did it sell? No.
The woman who owned this fine carousel rocking horse bought it for her baby girl years ago. Her baby grew up admiring the horse until she was able to ride it.
Now her daughter is all grown up but she still loves the horse!
In 2020 the owner was planning to move and wanted another family to have their rocking horse.
By the time I had everything I needed to put the horse on the market, I only had a couple months because the owner's house was suddenly under contract.
She and I worked together as I pulled out all the stops to get it sold, but time ran out.
Since it didn't sell before her move, she donated the horse to a charity.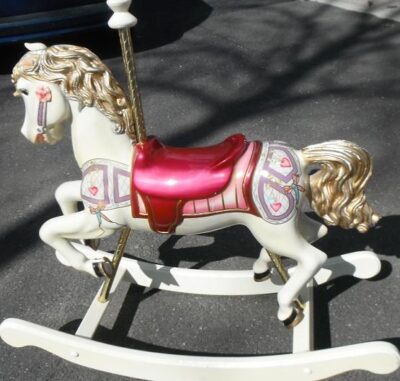 Did it sell? No. You can see that one of the ears had broken off, but if the ear is repaired it would sell.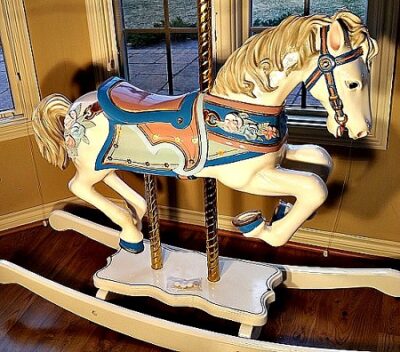 Did it sell? Yes!
The seller told me: "Since my kids are too old to enjoy it and I'm not into interior design, I know someone would appreciate having this beautiful carousel horse."
A businessman was interested in buying this horse, but first he wanted to know who made it.
I had my appraiser look at it but she could not give a definite answer about the maker, only that it is similar to those made by S&S Woodcarvers.
The seller reached out to the person he got it from, a collector of rocking horses, and she didn't know who made it, only that it came from California.
I reported this to the businessman who had more questions.
Soon, the businessman who was captivated by this beauty, bought it; although he said it was for one of his children.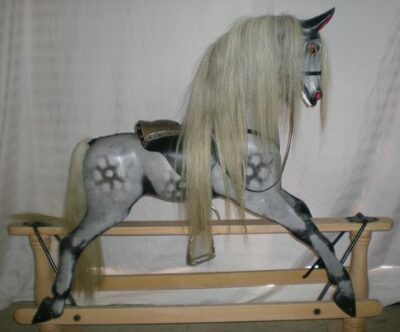 Did it sell? Yes!
Bought in the late 80s, sold in 2014.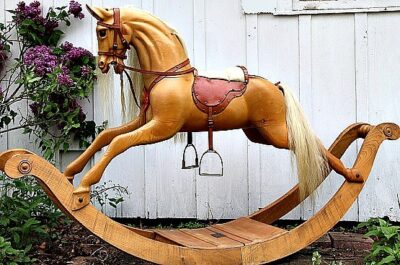 Did it sell? No.
She inherited from her mother who collected rocking horses and wanted to sell it.
This fine bow rocking horse was on my site for a few years when suddenly a buyer requested it, but when I tried to contact the owner, she could not be reached.
Did it sell? No.
Seller: "This lovely heirloom rocking horse was gifted to our daughter by her grandmother who is a recognized artist in Arizona.
Our daughter will now graduate from Cal Poly San Luis Obispo California, and we decided to allow another young family to enjoy this wonderful child's rocking horse."
Although structurally sound, this rocking horse didn't sell likely due to its many cracks in the paint (hard to see in the above image.)
Beginning to see why some rocking horses sell and some don't?
For those of you who have wood rocking horses and want to sell for top dollar, here are a few tips.
#1: Most minor defects can be easily repaired.
Rocking horses that have a fair amount of use will have minor defects, so repair them.
For example, if your rocking horse has missing jewels, take one of the jewels to a crafts store and find a match, or find something close on Amazon. Then, peel and stick.
Replace any missing wood screw caps on the rockers.
Gently clean any streaks or smears from normal use.
Most major defects are not worth paying an artist to repair, so discount the price of your rocking horse accordingly.
#2: Shoot images of your rocking horse in a well-lit area with a pastel background to bring out the colors in the horse.
Before

After
#3: Choosing a price for your rocking horse is tricky, so if you really want to sell, do not ask for more than it's worth.
I see rocking horses overpriced on ebay and elsewhere. I suspect those people think their rocking horse is a collector's antique like the carousel horses of the early 20th century.
No, it's not. And usually those rocking horses do little more than collect dust.
Each wooden rocking horse has its own price range depending on factors like condition, color, what a person feels when they see it and more.
Bonus tip: If you ship a rocking horse using popular shippers like UPS, FedEx, DHL, it's likely to arrive with additional damages.
Broken ear, chipped tail, scratches on the rockers and yes the rocking horse was crated before going on the truck!
Damages occur, so do not use these cheap shippers.
I usually manage the shipping for the buyer because I want them to receive their rocking horse in the same condition before it was shipped.
Questions? Contact me.
I'm happy to take a look at your rocking horse.
I manage Carousel & Rocking Horses bringing together buyers and sellers of hand crafted wood carved animals, rocking horses and carousel horses.