S&S Woodcarvers Rocking Pony
home »
s&s woodcarvers rocking pony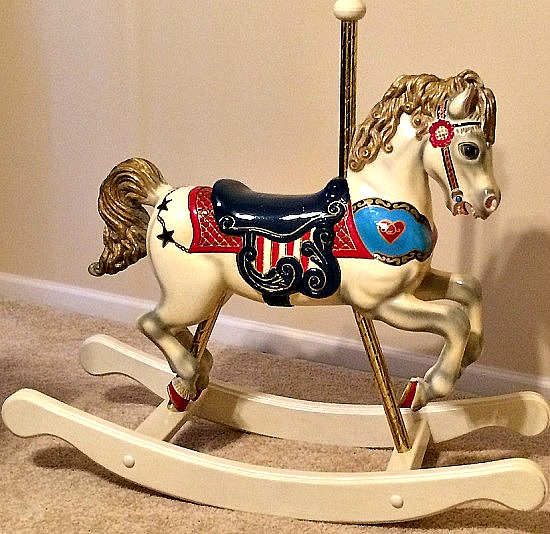 Sold
Click here for available S&S Woodcarver rocking horses.
Rocking horse measures: 32" long x 31.5" high x 15" wide; Floor to saddle: 24" high
Rocker: 39" long, Floor to top of pole: 37" - by S&S Woodcarvers
S&S Woodcarvers is known for quality rocking horses and although it isn't clear how many of this style were made, this one was made in 1983, as noted on the engraved belly. It doesn't appear that S&S Woodcarvers makes carousel rocking horses any longer.
The asking price is due to the scratch marks on the saddle (all defects and details are clearly visible in the images). This rocking horse is still in good condition!
It takes up residence in Memphis, TN - perhaps you can come pick it up and save money on the shipping.
"I have loved horses all of my life and when i saw this piece in the store i wanted it because it was so pretty and a happy piece that just by looking at it I was transported back to the times I rode a carousel horse with the music playing, bright lights and these very colorful animals that seemed to possess a life of their own. I hope someone will enjoy it as much as i have."
~ Renee (current owner)