If you're counting down the days until your spring break,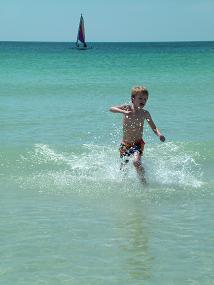 you're definitely not alone. Vacation is a wonderful time to relax, unwind, and recharge your batteries; it's also the perfect opportunity to bond as a family.
In the US, travel has become more than just a hobby. It's a nationwide passion. According to the US Travel Association, vacation travel spending, both domestic and international, rose to a whopping $526 billion in 2010 alone.
To make the most out of your vacation this year, it's important to understand the basics of travel safety to prevent any unexpected events from occurring. By using these travel safety tips, you will be able to better relax on your getaway since you won't have to worry about your family's security!
1.       Create a family safety plan. If you're traveling with children, create a plan for travel safety, such as how to handle getting lost in a large public area, like an airport. Make sure that your children understand how to deal with strangers and the importance of staying in a group in a foreign country.
2.       Label all belongings. Labeling all of your family's belongings will make it easy to track down a lost item if it is left behind at a restaurant, hotel, or airport. Using a simple label maker will help you to quickly tag all belongings, like clothing, toys, and hand-held electronics.
3.       Keep a low profile. If you're traveling to a foreign country, bear in mind that Americans are not the most popular foreign visitors in many parts of the world. Teach your family to be polite, respectful, and inconspicuous. This will make your family less likely to appear as tourists, who are often targeted by thieves for cash, passports, and valuable belongings.
4.       Ask a trustworthy neighbor to watch your home. In addition to having a basic home security system, it may give you peace of mind to ask a neighbor to keep an eye on your home while you are on vacation. This neighbor can remove any newspapers and mail so that criminals are not tipped off that you are away. It is also helpful to install a security system that has camera surveillance features so that you can check on your property via your smartphone or the Internet.
5.       Set household lights on automatic timers. Many times, home security systems will include a feature to automatically time lights to go on when it gets dark outside. Setting household lights on timers will give the illusion that your family is still at home, making a criminal less likely to attempt a break-in while you are out of town.
In addition to using all of the tips above to keep your family safe on vacation this year, the most important point to remember is to have fun! Taking safety precautions will minimize worry so that you can kick back, relax, and enjoy your holiday.
About the author: Sylvia Rosen is an online writer with a background in newspaper journalism. She enjoys writing about parenting, family lifestyles and home services, such as home security systems.