Traveling with kids can be the most rewarding, fun a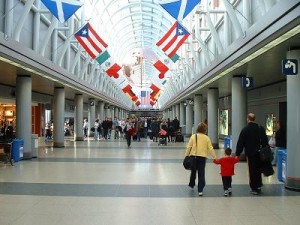 nd enlightening experience of your life. Or, it can be the most hair-pulling, frustrating and maddening time of your life. It all depends on how well your kids adjust to the travel and how happy you can keep them. Here are 20 creative ways to keep your kids busy, occupied and happy while traveling.
For Toddlers
Toddlers from the ages of 2 to 5 are easily distracted, so take more than one item to distract them. The moment it looks as though they're bored of item 1, pull out item 2 before they start whining or fighting amongst each other.
1.        Take coloring books with a supply of colorful crayons and colors pencils. Don't take water colors because your trip can quickly turn messy.
2.        Take a few plain white-sheeted drawing books. Encourage your kids to draw as color the sky, the trees, birds and vehicles that pass by as you travel.
3.        Take picture books, especially the ones with center fold cut out pictures that form 3-D images when pulled out. Picture books can keep your kids endlessly fascinated.
4.        Stick pictures of the things people see during travel in a book, such as cars, buses, trains, bridges, birds, animals and stop signs. Ask your toddlers to see the pictures and point the things out to you as you pass them by on the roads.
5.        Take a couple of puzzle assemblies with magnetic puzzle pieces for long car journeys and flights. The magnetic pieces won't fall off and get lost, and will provide endless hours of distraction for your little ones.
6.        Don't forget to take their favorite lovies along with you; give them their lovies only when they start getting tired and whiny.
For Older Kids
Older kids from 6 to 12 are more aware of their surroundings and interested in where they're going, so get them involved in the travel experience.
7.        Talk to them about what you'll see and experience at your destination. Explain the culture, language, customs, dress code and weather conditions. Encourage your kids to ask questions.
8.        Buy easy to read travel books on your destination's highlights, preferably books with lots of pictures in them. Encourage your kids to read these while traveling and ask you questions.
9.        Encourage your kids to come up with quiz questions for each other about your destination. The answers will be in the travel books. Reward the winner with a special prize such as extra shopping budget at your destination.
10.     Buy stickers of commonplace things you see during travel. Give your kids a blank book and ask them to write the story of your travel, starting from when you left home. The kids can use the stickers to illustrate their story.
11.     Portable game stations are a good way of keeping older kids busy. Make sure you carry spare batteries along with you.
12.     Play the 'spot the red phone booth' game with your kids. Assign points to the kid that spots the most red phone booths, or white BMWs or whatever it is they're supposed to spot. Reward the winner with something special at your destination.
13.     Give each child a holiday bag in which the child can carry his or her favorite toys, games and treasures. They should be allowed to put any additional treasures they pick up on the way into their personal holiday bags. This way, each child will be occupied on his or her own. You can also add their favorite snack foods and drinks into these individual holiday bags.
14.     Take magic painting books where images shift and change colors after being painted. This sort of magic painting book can be bought at craft shops and can even keep an adult busy for long periods.
For Teenagers
Teenagers tend to sulk and stay incommunicado for long periods. However, when they're bored, they can get on your nerves and make you wish you'd left them home. Teenagers may or may not participate in family travel games such as quizzes. It all depends on their mood of the moment. Here are a few tips to keep them busy during travel:
15.     Take separate portable game stations, spare batteries and enough games for each teenage kid. Remember they don't like to share.
16.     Collect all the music your kids like to listen to and load them up on their iPods, cell phones or portable music systems. Give them headphones and let them while the journey away in joy.
17.     If possible buy them notebook computers or laptops that they can play with during the journey. They can play games, watch movies, listen to music and play with pictures and videos.
18.     Give them video cameras and encourage them to take videos of your travel. Then challenge them to edit and organize the video on their laptops till it's good enough to make a family holiday journal and possible Christmas CD presents for your family and friends.
19.     If you have Wi-Fi tools, allow them to access the internet. Nothing can keep a teenager occupied better than the internet. Needless to say, you need to supervise the sites they access.
20.     Pose for funny pictures and ask your teenagers to create interesting picture collages that you can paste on their bedroom walls. They can have great fun creating monsters by adding extra horns and fangs to family pictures.
Teena works for father's day gifts ideas Company Adrenaline that offers a large range of unique and thrilling gifts for fathers all across Australia.