It seems thrift is going to be with everyone for quite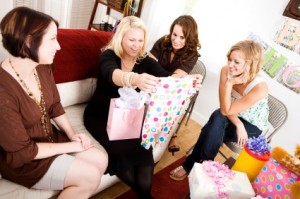 some time, and if there's a solid way to save a little cash these days, finding it is an absolute must. Nowhere is that more true than when you're trying to throw a party like a baby shower and stay on budget. Fortunately, there are a number of ways you can save a little cash and still create an amazing shower for that special person in your life.
The Venue: You can certainly rent out this location or that one, but the chances are good that you'll have to shell out some extra cash to do that. Instead, it's best to try to go with a free venue. Have it at your house or the mom-to-be's place, if that's possible. You could also ask her mom or a close family member. If that doesn't work, you may want to look for a free room at the local community center or a nearby church. If you don't have to pay for the place you're going to hold the shower, you're far more likely to have a little money to spend on decorations.
The Décor: Your decorations don't have to be pricey, and all of them can be useful. One great idea is to hang a bit of yarn like you might a clothesline. On it, string some onesies or other adorable baby clothes with clothespins. You can attach a letter to each one to spell "BABY" or even the little one's name if they've already chosen it. Once the shower is over, the mom can take the decoration home as a gift. You may also be able to pick up many of the decorations at your local dollar store to save some money.
The Invitations: Almost everyone is going green these days, and sometimes the eco-friendly way of doing things is the cheapest. That's certainly true when it comes to invitations. There's no reason you have to buy and mail invitations. Instead, why not use an email invitation service or even Facebook or Twitter to contact everyone you want to invite? It's not going to cost you anything, and most people will love the fact that you're connecting with them on a service they use all of the time.
The Food: Don't bother going with the expensive catered version for this event. Instead, make it yourself and save some cash. Nothing has to be too complicated, as you'll likely just want finger foods here anyway. Go with small sandwiches, a small selection of teas, and a cake. Round it out with a veggie tray (where you cut the veggies yourself), and you'll have plenty to eat without the expense.
The Games: Games for baby showers can be very inexpensive to put together. If you come up with some easy prizes like ones you might make yourself or even pick up at the dollar store, you're going to have quite a bit of fun without any real expense. There are a number of cheap game ideas to consider. You could have the mother-to-be leave the room, then having everyone list 6 things she's wearing. Alternately, you could make a list of things most people have in their purses. The person who has all of the things on the list wins.  Finally, take a look online to find free baby shower games that you simply print and play.
It's easy to give a great shower and stay frugal at the same time. Just do all of your planning ahead of time, and you'll have an amazing (and cheap) baby shower she'll remember forever.
Jan Kremer is an event planning consultant with over 10 years of experience.  As a blog contributor at www.baby-gifts-gift-baskets.com, she shares her tips for hosting a memorable baby shower or birthday party without breaking the bank.