Birthday parties are always fun, but they can be a bit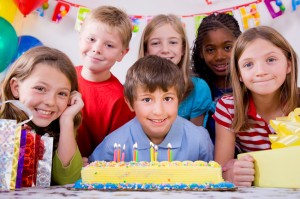 more exciting with the ideal theme. Choosing a great theme for your son can seem like a monumental task. After all, there are probably a multitude of things he's interested in, and when you combine that with the ideas you like, you're certain to have plenty on your hands to choose from. Here are a few you may want to consider.
1.       Where the Wild Things Are: This is one of the most beloved children's stories of all time, and there are few little ones who wouldn't love to have this as a birthday party theme. Create a forest on your table for a centerpiece, and go with cute sugar cookies that look like the monsters for your birthday favors for the kids to take home with them. You may even want to read the classic story as one of your activities.
2.       Legos: If you have an older boy, the chances are good that he loves to build with his Legos, so this makes a great birthday party theme. With a few marshmallows on top and a lot of frosting, it's fairly easy to make a cake that looks like Legos. The party favors should be an obvious choice here, too. You could also have a Lego building contest as one of your activities.
3.       Trains: Trains have long fascinated little boys, and they make the perfect birthday party idea. If there's a caboose available to rent in your area, you may want to consider having your party there. If not, you can still set up a model train for your guests to play with, create train shaped sugar cookies, and even send home train whistles as party favors.
4.       Dinosaurs: There are few things that are more universally appealing to little boys than dinosaurs, and it's a fairly easy birthday party theme to pull off. Your cake can actually be cupcakes with little plastic dinos on top of them that the guests can take home. You could even send your guests on a dino egg hunt for a great activity.
5.       Race Cars: Little boys (and big boys) love speeds and cars, and this is a great way to celebrate this. Simply add a few great race cars to the cake, and you may want to send them home in the treat bag too. You can even have a fun oil change activity or two!
6.       Football: Lots of little guys love football, and this is a fairly easy birthday party theme to pull off. You can simply use any football gear or equipment you have laying around to decorate. Serve football themed food like pigs in blankets. Shape your cake into a football too for a bit of extra fun.
7.       Army Men: Sir! The General has ordered an amazing party, Sir! You can certainly make it one for your little guy thanks to a bit of camo, some amazing rescue-style games, and even camo cake pops for a treat. Little green army men will make a wonderful party favor for everyone.
8.       Science: There's nothing quite as cool as science, and this can make an amazing birthday party theme. You can simply go with regular cupcakes with this party, but decorate them with some crazy frosting and add a gummy worm to the middle of them for a bit of extra fun. If you're searching for solid activities, let them do fun experiments like combine Coke and Mentos.
9.       Safari: Your little guy's party is certain to be an adventure if you decide to make it one with this theme. Have your party at the zoo if you can, but if that's not an option, include lots of animal prints. You may even want to have some bongo music in the background and safari hats for each of your party guests. You could take them in a PowerWheels style jeep on a hunt for some animals in the backyard, too.
10.   Pirates: Arg! You can make him walk the plank if he doesn't have fun with this birthday party theme. Choose a great boat shaped cake and hand out eye patches and bandannas for this party, then set up a plank in the backyard where guests have to "walk over" pretend crocodiles and more for a bit of added fun.
Jan Kremer is an event planning consultant with over 10 years of experience.  As a blog contributor at www.aagiftsandbaskets.com, she shares her advice about hosting memorable birthday parties on a budget, cool birthday gift ideas for kids, and theme party tips.