Christmas sure is a magical time and for those who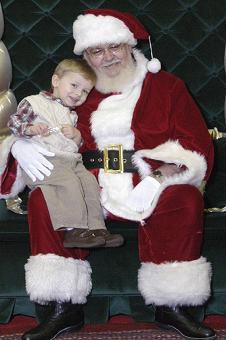 celebrate it; it is also a time full of traditions and expectations.  Most parents want to make that Christmas magic happen for their kids, which often means they want that adorable picture of their child beaming on Santa's knee.  Once children understand that this jolly fellow in the red suit is bringing presents, the excitement builds.  Everyone in the family is eager to visit Santa… but after waiting and waiting in the line, the magic turns into a meltdown for your little one, often resulting in a fear of Santa.
When you have a row of other parents behind you, Santa's elves ahead looking impatient and the weight of your own expectations bearing down on you, your child's fear of Santa seems like a big, embarrassing disaster.
Here's some consolation for parents who can relate to such a situation – You are not alone because fear of Santa is pretty common.
The first and the most important thing to do in such a case is to keep your cool.  Don't get flustered or impatient, and don't insist that your child sit on Santa's knee or go near him.  Let the kid behind you go ahead so your child can watch.  If your child is still afraid, just leave.  You can go for a little walk and try again if your child wants to.  You can come back another day if your child wants to.  Or you can let it go for this year.  Reassure your child that Santa meets lots of kids who feel too scared or shy to sit on his knee, and he understands.  He'll deliver the goods anyway.
Pre-Santa Prep
If you suspect your child has a fear of Santa, you can take some steps to make it a little more comfortable and confident on the big day.  Try using the three P method to help your child enjoy overcome a fear of Santa, but remember the main thing is not to make it a big deal or pressure your child.
1.       Pictures.  Give your child a chance to look at lots and lots of pictures of Santa for a couple of weeks ahead of Christmas, so the child becomes familiar with his face.
2.       Practice.  Let your child rehearse with you playing Santa.  Enter the room ho ho ho-ing and invite your child sit on your lap.  (Remember to keep it playful, no pressure!)
3.       Participate.  If your child really wants to go up but is held back by that fear of Santa, offer to go up with him/her or go instead.  You can bring your child's letter to Santa while he or she hangs back with another trusted adult.  Seeing you chat happily with Santa might reassure your child.
There is one last P, and it is a big don't.  Do not pressure your child.  Let it be your child's decision whether or not to approach Santa or sit on his knee.  Simply darting up and handing him a letter might be very brave for your child.  Whatever happens, reassure your child that Santa will still come, as he or she is a wonderful child.
Aishwarya Vohra is a part-time writer and a full-time home maker. She has written this article for CarSeatOnline.net, where you can read the Graco Nautilus 3-in-1 Car Seat Review.  Although she is yet to experience the joys of motherhood, she deals with children on a daily basis which explains her good understanding of child psychology.