My kindergartener fits the "husky" size at the GAP.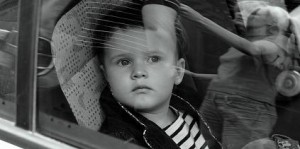 At five-and-a-half, he's already 55 pounds. Lately, he has been complaining about the straps on his car seat. "I feel like I'm trapped in here," he says. "Get me out."
His Graco Turbo car seat converts into a booster, meaning I can detach the back, let him sit on the booster seat, use just a seat belt and let him be "free." That's what scares me.
Technically, the booster seat is approved for children over 40 pounds and 40 inches tall.  I'm just not sure he'd really be safe in it. When I was a little kid and got my hair cut at the local salon, the lady who washed my hair would prop me up on three phone books so I could lean my head back into the sink. I think of this every time I consider converting my son's car seat into a mere booster. I felt wobbly on those phone books. Is a booster really enough to keep my husky kindergartener secure in a highway car crash?
The manual on the car seat says yes, but I do further research. The Insurance Institute for Highway Safety (IIHS), a not-for-profit organization financed by the insurance industry, just issued a new summary report on the best and worst booster seats. Its "Best Bets" position a child between four and eight correctly in a seat belt in the back seat of almost any vehicle. A "Good Bet" means the seat will offer an acceptable seat belt fit in most vehicles. "Check Fit" indicates that the seat may work in some vehicles but not all. The IIHS also maintains a classification of "Not Recommended," for those seats that aren't reliable. (Check out the list here.)
Booster seats are recommended for children when they outgrow their car seats. My son's car seat instructions say it'll fit him up to 100 pounds. And the federal government's new guidelines recommend keeping children in forward-facing car seats from ages 4-7, and then keeping them in booster seats from 8-12.
To me, it seems my son falls in the gray area. I looked into it though and found that some parents don't even use a booster seat, much less a car seat! And that's really dangerous.  Children between four and eight who use booster seats are 45% less likely to be injured in an accident than kids who just wear a seat belt.
Lap and shoulder seat belts are designed for adults, not children. Kids need a booster so that the lap belt lays across their thighs, not against their stomachs, where it may cause injury to internal organs in a crash. Likewise, the shoulder strap should cross the child's chest and not press against his neck.
Each of the 50 states maintains and governs its child safety restraint laws. States also maintain their own statistics on safety, but it's clear from New York to California that the elementary school set needs to be properly buckled in. For example, Colorado law previously required only four- and five-year-olds to use boosters, but Colorado State Patrol records show that 11 of the 20 children between the ages of four and seven who died in traffic accidents between 2006 and 2010 were killed because they were not wearing a seat belt or using a child seat correctly. Colorado lawmakers recently extended their child passenger safety law effective August 1, 2011, by requiring boosters for more children.
I want my son to be comfortable and happy in the car. When he complains, he distracts me from driving, and that may be the most dangerous thing of all. So here is what I have decided: I will make sure his booster is properly installed, not just loosely propped on the seat like those phone books from my childhood salon. I will ensure that his Graco Turbo booster is tethered to the seat itself, so that it is stable. These are commitments I will fulfill for my child's safety.
Finally, I'll hum a little ditty on proper seat belt use to my son: "Under the arm, seat belts cause harm. Behind the back, safety will lack." He's precious cargo.
Pari Chang is a professional journalist for the Law Offices of Daniel R. Rosen, and an attorney who graduated from NYU School of Law. She is a single mother of two young children.