There are plenty of myths afloat that make expecting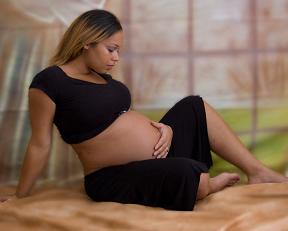 mothers fret; and although some of it is hogwash, when pregnant, women must take extra care to keep harmful ingredients out of their beauty arsenal to protect their precious cargo.
At the Hair Salon
During the first twelve weeks be sure to stay away from color treatments; and beyond that stick to highlight and treatments that don't touch the scalp. If that simply isn't an option, use natural vegetable dyes. For those DIY'ers, this may be the time to splurge on salon treatments to avoid unexpected color failures; because of the hormonal changes that are occurring, the color you typically use may look different during pregnancy. And as a safety precaution, book the first appointment of the day to minimize exposure to fumes.
At the Spa
A massage during pregnancy is more than OK, it's recommended; massages help improve circulation, promote relaxation and reduce swelling, all common complaint during gestation. However, be sure to inform the spa you are pregnant when booking; and ask for a practitioner that is familiar with pregnancy massage. An experience practitioner will know that you are not to lie on your back for more than a few minutes after the first trimester; and certain products and techniques should be avoided during pregnancy. Steam rooms and saunas should be avoided all together, as well as any treatment that raises the body's temperature dramatically, such as a body wrap or Vichy shower. If you notice that your practitioner isn't familiar with these basic, SPEAK UP, this is your health and that of your baby's- you aren't be rude, you are being a mother!
The Beauty Counter
Most acne skincare treatments contain ingredients that can cause birth defects; avoid topical retinoid products, including Avage, Differin, Renova, Retin-A, retinols, retinyl, palmitate and Tazorac. Oral medications such as Acutane and tetracycline, should be avoided, as with over the counter products with salicylic acid and benzoyl peroxide. Consult with a dermatologist to find holistic and all natural product for acne prone skin.
The Nail Shop
Manicures and pedicures are completely safe during pregnancy, as long as you take certain precautions. It may seem anal to bring your own tools, but this assures that nothing can get into your system, also, do not soak your feet in the tub; because during pregnancy your immune system is suppressed, and tubs and tools can be a breeding ground for bacteria. Be sure to choose a well ventilated salon and avoid polishes that contain toluene, phthalates or formaldehyde.
Honorable Mention
In addition to the aforementioned ingredients, look for and avoid products can contain aluminum, ammonia, hydroquinone, oxybenzone and parabens.
Expectant mothers are putting their bodies through a lot when growing a healthy baby; and they should be rewarded with some self indulgence; using this guide will help expectant mommies stress less and pamper themselves worry free!
Bianca Osbourne is a freelance writer and natural foods chef; through her writing and teaching she hopes to empower people to take their health into their own hands. Currently she is focusing on creating recipes that boast healing properties; helping women and men find best adult acne skincare treatments in the foods we eat.