When it comes to your family's Christmas tree,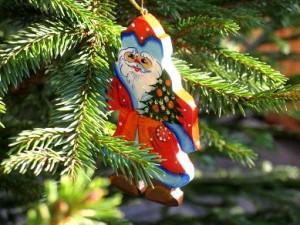 the great tree debate continues. One would think that buying a plastic reusable tree is more eco friendly than the traditional real pine; but one would be wrong. A real tree from a farm doesn't just fill our homes with the quintessential scent of the season; but it generates almost three times less green house gases than the increasingly popular artificial tree.
The green house gases emitted in the production, transportation and disposal of the two tree options were compared- including the tree stand and water; and although fake trees are used an average of about six years, they are often plastic and made in China. The best option is to find an organic farm and recycle your tree responsibly post holiday; most cities have a special tree pickup date allotted in their garbage disposable schedule.
For those of us who live in apartment buildings, we may have gotten a notice saying that real trees aren't allowed; this is because they can be highly flammable if the wrong lights have been strung, resulting in overheating and fire. But there are still green choices that we apartment dwellers can take advantage of.
Three potted options are:
Lemon Tree
A lemon tree not only gives off a lovely citrus scent, it thrives indoors all winter long; as long as it is given enough sunlight during the day. So place the tree near a south facing window to see it flourish. To make it more festive add some miniature Christmas balls; but be sure to keep them light, you don't want to weight the tree down.
Norfolk Island Pine
This mini pine is super charming and is a fantastic option for apartment dwellers, as they pine yet potted. They still give off a lovely pine scent and the branches are strong enough to have little Christmas balls and light strung upon them.
Myrtle Topiary
This options needs to be kept moist and in direct sunlight. The lovely round shape is perfect for dainty decorations; but be sure to prune regularly or the shape won't keep.
My suggestion for those going with potted options is to buy two or three and cluster them together, to give the effect of the real thing!
It's the holidays and the best gift that we can give to Mother Nature is the gift of sustainability; so grab your saw and make a greener holiday choice.
Bianca osbourne is natural foods chef and health writer; through her experience she hopes to teach people how to harness the goodness in the best foods for healthy skin, which she believes are the best acne skincare treatments available.