Nothing makes the Christmas season seem as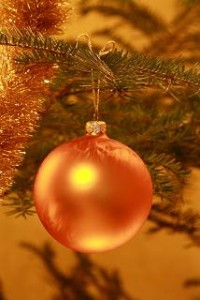 cheery as holiday decor. The Christmas season shines even brighter when the hands of the little ones you love make those cherished decorations. The following five projects will provide you with inspiration to get started crafting Christmas decorations with your grandchildren.
Popcorn garlands
Grandparents have made popcorn garlands with their grandchildren for generations. It is simple to make for children of all ages and the popcorn itself is an irresistible cold-weather treat. Simply pop up some popcorn and use a needle and thread to create a garland. Prevent needle pricks by using blunt-tipped safety needles with younger children. If desired, popcorn may be dyed with a non-toxic solution of sugar, food coloring and water.
Paper snowflakes
Paper snowflakes are another easy holiday decoration grandparents can share with their grandchildren. The only materials needed are paper, safety scissors, a small bit of string and a spool of clear tape. Fold the piece of paper into quarters by folding it in half then folding the half again. Trim the loose edges to form a concave circle. Add detail by cutting out triangles along all four edges. The cuts will be symmetrical when the paper is unfolded. To display snowflakes, simply tape into a window. Alternatively, tape a loop of string to the top-most portion of a point on the snowflake and hang on the Christmas tree.
Candy cane reindeer
Candy cane reindeer are simple to make, look great on the tree and are fun for youngsters to nibble on. To make them, you will need brown pipe cleaners, a hot glue gun and a bag of small googly eyes. Snip off about 4″ of brown pipe cleaner and twist around the candy cane's hook to look like horns. Then glue the eyes on either side of the hook just forward of the horns. Some like to glue brass jingly bells onto the body of the candy cane to mimic the sound of sleigh bells.
Plain ball ornaments
Plain ball ornaments make an excellent base for decorating with glitter, beads, sequins and other pretty findings. To get started on this project, you need only glue, your choice of decorative items and a little bit of creativity. Most ball ornaments come with hooks already attached. However, a bit of ribbon glued or tied in place of the hook will make a lovely hanger if your ornaments have none. Some clear plastic ball ornaments are made like Easter eggs, where children can crack open the ornament and simply stuff it to decorate.
Decorate Christmas stockings
Any child old enough to write his or her own name can use puff paints to decorate Christmas stockings. Paints can be purchased in a rainbow of color. Some even include bits of glitter and confetti embedded in the paint. Bits of lace, sequins and holiday themed iron-on transfers can also be used to decorate Christmas stockings.
These five ideas are just a small sampling of the types of projects you can do with your grandchild. There are dozens more to choose from. When selecting projects to complete with grandchildren, be sure they are age appropriate. There is little more frustrating to children than being presented with a fun looking project and not having the coordination to complete it.
Sarah writes for Homes With Care, who provide a unique and dedicated service that helps inform interested parties on the availability of assisted living facilities, retirement homes for sale and rent offering integrated close care, close care, extra care and independent living.