One of the best parts of a Disney vacation is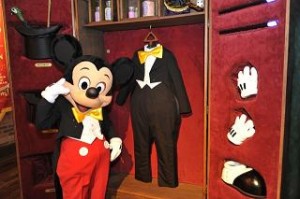 meeting the main mouse himself—but Mickey can be hard to find if you don't know where (and when) to look. Walt Disney World offers several different ways that you can meet Mickey, so you can choose the location that best suits your schedule—or visit them all.
5. Town Hall in the Magic Kingdom
Head into the Magic Kingdom, and veer to your right as you pass under the train station. You will see a stationary, indoor Mickey Mouse greeting station that is open all day. You'll get a little tour, then the chance to meet Mickey himself. The best part? This location features a Fastpass option, so you can grab a ticket on your way in and see Mickey at an appointed time without waiting in a long line. This location is open daily.
4. Chef Mickey's at the Contemporary Resort
Chef Mickey's restaurant is located in the Contemporary Resort – you can't miss it if you arrive or pass through by monorail. Chef Mickey's offers breakfast, lunch or dinner with Mickey, Minnie, Goofy, Donald and Pluto. The food is good and there are plenty of options, regardless of the time of day you visit. Each family can get a photo with Mickey upon arrival, and each character will visit your table during the meal. You'll get a little more time with Mickey at the character meal than you will at a meeting location, so choose this option if you want to relax, enjoy a good meal and meet the characters at your leisure. Prefer to meet Mickey in a theme park? He also appears daily, in farmer garb, at the Garden Grill in the Land Pavilion in Epcot.
3. Character Spot in Epcot
While you can occasionally spot Mickey in different parts of Epcot, including the American Adventure, you are sure to meet him if you visit the Character Spot in Future World. This location runs most of the day, and is easy to find—just take the right hand path around Spaceship Earth, then stay to the right of the big fountain—you'll pass right by the Character Spot. You'll usually find Mickey here, but expect to see Minnie, Donald, Goofy or Chip and Dale as well.
2. Camp Minnie Mickey at Disney's Animal Kingdom
Head to Camp Minnie-Mickey for a safari-themed greeting area, complete with Minnie, Mickey Donald and/or Goofy. The characters greet guests daily on the trails just outside of the Festival of the Lion King show. Follow the map or directions to the Festival of the Lion King, and then head to your right; the character greetings are held in little gazebos along the trails. If you can time things just right, you'll meet Mickey without waiting in line. The only time this area has a significant wait is when the Festival of the Lion King show lets out and releases about 1,000 guests at once.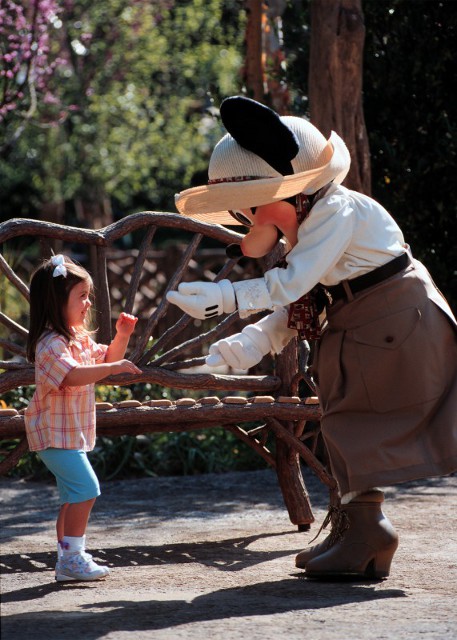 1. Disney Visa Greeting
This location is only for Disney Visa cardholders, so check your wallet! If you have a Disney Visa, head to Innoventions in the Future World section of Epcot. The Visa character greeting location is not heavily advertised, so it can be tough to find. It is sandwiched between the Segway demo area and the firetruck/fire safety display. Look for the roped of area by the blue wall—you'll often see a small line here. Show your card and you'll be ushered to a private greeting with several characters. Mickey is usually (but not always) here, making it a great spot to try. The best part of all is that you can get a free 5×7 photo of your meeting – just pick it up at the camera shop on your way out of the park.
Samantha McNesby is a freelance writer who covers a variety of topics, including parenting, travel and the home. An Orlando theme park expert, and can currently be found writing for Theme Park Tourist, where you can find all the latest theme park reviews and guides.
Photo credits
All photos: Walt Disney World media site