For many people, shopping is considered a way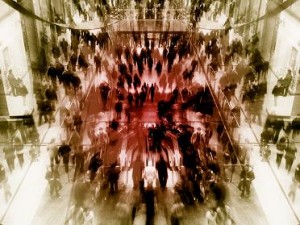 to relax. Window-shopping and buying things on a whim makes many people feel happier. When we are relaxed, we then become positive about making big decisions, like spending money. That is why it is exceptionally important for shopping centres and the high street to allow for a stress-free shopping experience.
However, with Christmas around the corner, our shopping centres and high streets are crammed with shoppers, buskers and solicitors wanting you to sign up for the latest something or other. It seems the only time of year that we hate to shop.
When shopping on the high street we either don't bother to look around for cheaper alternatives and buy the first thing we see regardless of the price, or we traipse around for hours on end, store after store getting more frustrated with ourselves to find the best bargain. It's one of those situations – if we want to save money then we need to put in the extra effort.
Cyber or internet shopping is becoming a popular option nowadays because it allows us to shop in our pyjamas with a cup of tea in front of the fire. It's more convenient for all of us.  We don't have to battle the high street, we can simply type in our item and there it is – the cheapest alternative in a matter of moments.
In addition, we can now get even more money off with voucher codes, these are a combination of letters and numbers that can be inserted into the payment page to receive exclusive discounts. Great offers include New Look Voucher Codes – 50% discount on selected party wear, great for Christmas parties and The White Company Voucher Codes – 15% discount plus free delivery, great for the Christmas decorations.
Online shopping is great but sometimes you just need to try it on. If you're heading out on the high street make a list before leaving the house, we all keep a mental list but in the hustle and bustle there is always that one thing that we forget. Write down each person that you need to buy for and an idea of what you would like to get them and then set a budget for each person, this way we won't over spend on a whim.
Many stores offer a free gift-wrap service. Save yourself time by making the most of the service and let us be honest – they do a better job than most of us could do.
Don't shop when you're feeling guilty! If you bit your partners head off that morning for no reason what so ever then it's probably best not to go out and get their presents because it's likely you'll spend far too much.
And finally – don't stress over brought presents! I've done it myself, is it the right colour? Will it fit? Do they really want it? Is it a little silly? Because nine times out of ten they'll love it and if they don't then send it back or laugh about it for years to come.