With the change in season and cooler weather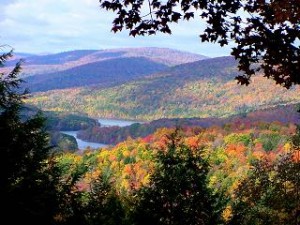 families seem to be spending more and more time indoors. This however is the perfect time to load up the family, from the kids to the grandparents, and take off driving through the scenic and colorful fall landscape.
The leaves are changing colors and it is still warm enough to spend a fun filled adventurous day in the mountains, forests, local parks or the beach. This time of year is perfect for the kids to be outdoors exploring, watching squirrels burying acorns and having fun kicking through the mounds of leaves that have fallen from the trees.
It is also the time of the year that is less crowded on both the road and within local tourist destinations since school is back in session and it's the off season. Use this to your advantage by taking short local trips to the tourist destinations you always want to get around to going to see but never do. I know, you're thinking it's the holiday season, I have no time. Well, this is exactly when you can use the stress relief of a relaxing drive through the scenic fall landscape and return with kids that have had a fun filled adventurous day who are ready for bed.
If you really can't find the time, this would also be a perfect drive for the grandparents to take the kids on. It provides you with some much needed mommy time and allows the kids some quality time with their grandparents driving to a new area to explore. Just make sure you make it easy and pack everything, food, juice boxes, snacks, toys and extra warm clothes in case the weather changes while on the road.
Regardless of where you live, most areas in this country are only a couple of hours away by car to many fascinating and kid friendly destinations. I would highly recommend visiting your local library and reading up on local attractions that are close by and are either free of charge, low cost and/or have senior citizen discounts. Many have historical significance and will hold both the kids and grandparents attention, which of course is exactly what you are looking for.
You might also want to check out or call some of the local wildlife officers or park rangers in the area who might now be available due to less tourist traffic, to take your kids on a nature trail walk where they point out interesting wildlife and local and sometimes even edible plants. Although you might warn them against eating any samples unless specifically told to do so my one of the officers. (and if you allow them to do so of course)
Keeping it local and making it fun for both the kids and grandparents might take a bit more research and effort but it is well worth the effort and goodwill, especially during the holiday season. Hopefully, if it really goes well you might even get this to become a fall family tradition.
Kate Garmora is a writer specializing in children and family topics as well as wedding planning. Stop by Engraved Gift Creations to hear about her ideas on groomsmen gifts and other wedding necessities.