Children love books and they are certainly a fun way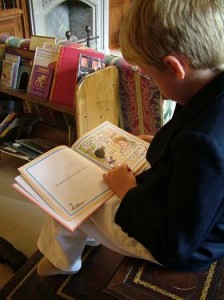 to help them learn many different things in life. More than just interesting images and amusing stories, it's also possible to create educational games and activities based on children's books. This will make the children excited to get involved and give the parents great ideas for spending quality time while teaching important lessons at the same time.
Crafts
Virtually any children's book can become the centre of craft projects. Crafts give children a chance to use their imaginations, exercise their problem solving skills and sharpen their fine motor skills all at the same time.
Puppets
One of the best projects that everyone can take part in is creating puppets based on the main focus of the story. Whether the story has human characters, monsters, animals or even inanimate objects, have the children draw or paint their own version on some paper, cut them out and tape them onto sticks. Once all of them are done, the children can manipulate the puppets according to the actions in the story.
Mobiles
Another fun craft is to make mobiles. Just as before, have the children draw and cut out their favourite characters of the story. Punch holes at the top of each cut out and then string them up on branches or dowels.
Sculptures
Finally, a fun and creative craft activity is sculptures using colourful dough from the shops or even homemade. Open up the book to a page with an illustration and ask the children to create one of the objects from that page. Make sure to give them full control of the dough so they can fully create using their own imaginations. If they need a little direction, try making an object with dough as well, so they can see your actions and try the same on their own.
Cooking Activities
There are quite a few popular children's books that have a food theme. For example, If You Give a Moose a Muffin by Laura J Numeroff, Bread and Jam for Frances by Russell Hoban, The Popcorn Book by Tomie dePaola and even The First Book of Sushi by Amy Wilson Sanger.
Try a family cooking or baking activity that's based on the foods that are mentioned in the story. Asking the children to help out will give them a sense of responsibility and can teach them math by counting how many times they stir, add or separate ingredients.
Gardening
If a storybook happens to have some healthy fruits or vegetables that can be grown at home, it's a great opportunity to teach the children about the environment and get them involved in growing their own food. Not only will they learn to appreciate and love to eat the food they grow but they can also learn how the environment changes plants and even witness the growth changes of different plants first hand.
Take a look at the different children's books that may be lying around the home right now and try to incorporate fun activities to breathe new life into older stories. The children will absolutely love it.
Miho loves to create fun and educational children's activities. She has worked as an early childhood educator for several years and enjoys posting creative craft ideas through her blog mihosuzuki.com.