Camp is one of those words that is closely related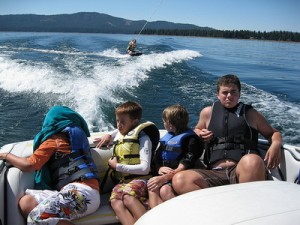 to summer as are the words fun, vacation, and swimming. Summer camp for many is synonymous with the full summer experience. As we get older and become adults, we long for the days of summer camp and the relationships developed and the fun had at summer camp. Whether you attended a summer day camp or an overnight summer camp, the camp experience will give you memories that last a lifetime.
Why Summer Camp is Good for Kids
From the eyes of a child, summer camp is the epitome of everything a kid wants… fun! Summer camps, especially overnight summer camps offer adventure that kids don't experience in their everyday lives. Kids get to establish new friendships and participate in activities such as horseback riding, ceramics, and swimming on a day to day basis. Although most kids won't tell you this, they need a break as well. Kids can get away from the stress of school and home life. They can express themselves and find peers with similar interest without the controlled learning environment of normal schooling. It's also a great place to do things that you don't get to do at home like throw water balloons, water ski, hike in the mountains, or play capture the flag with a group of kids their age.
Why Summer Camp is Good for Parents
There are many positives for summer camp from a parenting point of view. First and foremost is that you can be sure that your kid is being active which is very important in today's time. Many summer camps offer fun, active games and activities that will keep kids moving and working out without the kids even knowing it. Also, at many summer camps, kids will have the opportunity to learn new skills or hobbies that aren't readily available at home. Summer camp can be a great gauge of the likes and dislikes of your child and what they would like to continue doing after camp is over. It can be difficult to enroll your child into different activities just to have them give up halfway through because they don't like it. Many summer camps offer a wide range of activities for campers to partake in with trained staff available to teach and supervise campers while they experiment with these new activities.  Summer camp can also offer a break for the parents during the boring days of summer.  It's easy for children to get restless during the boring days of summer making it harder for parents to entertain or find a safe, educational diversion for their child. Summer camp can give the parents a chance to recharge or take a vacation of their own.
Summer camp is a great way for kids to find themselves, learn something new, and find new interest they would not be able to find somewhere else. Kids at summer camp can find friends that last a lifetime or learn a skill that can help them in the future. By sending your child to summer camp, you're giving them a lifetime of memories and possibly a new lifetime friend.  You can be assured that by sending your child to summer camp, you will give them a lifetime of memories and an experience they will never forget.