A pair of working parents, hectic school and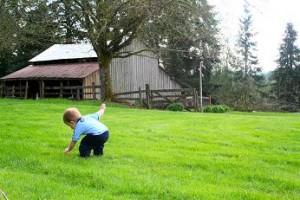 activity schedules and a chronic shortage of cash are challenges that most families face these days. Fortunately, the beautiful weather and lazy days of summer make it especially easy to dedicate time to togetherness. Try these affordable ideas to keep bored kids busy while making memories that last a lifetime.
Nature Explorers
Kids and the outdoors go together like cookies and milk. Plan a trip around your local landscape, whether that's the seaside, the mountains or a nearby farm. Even urbanites can transform a city park into a sprawling wilderness full of unexplored terrain. Don't forget to gear up before you go. Sturdy shoes, floppy hats, sunscreen and inexpensive binoculars or magnifying glasses are all must-haves for amateur explorers. Bring along a basket or paper bag for each adventurer's collected treasures. When you reach your destination, encourage the kids to look up, down and all around. What is crawling in the grass, flying in the sky or climbing up a tree? Don't forget to gather interesting flowers and leaves, seedpods and berries, feathers, stones, twigs or shells.
Memory Maker: Use your found objects to create a scrapbook with custom text and illustrations. Younger children can glue their treasures to a paper wreath.
Neighborhood Olympics
Beat summer boredom by organizing a block-wide tournament of events. Enlist other parents and brainstorm to dream up age-appropriate activities. Create an obstacle course with hula-hoops, yardsticks and kitchen chairs. Have a championship beanbag or water balloon toss. Include jump rope marathons, bicycle, tricycle or relay races and a sidewalk chalk hopscotch extravaganza. Provide plenty of water for thirsty competitors and don't forget to break for a healthy potluck picnic. Have a "medal ceremony" at the conclusion of each event. Stagger the winners on a porch stair platform and play their favorite songs. Have a book of stickers or a basket of pencils and other treats on hand for consolation prizes. End the day with a group sprinkler sprint on the front lawn.
Memory Maker: Fashion medals from cardboard circles covered with aluminum foil and string them on brightly colored ribbons. "Engrave" winner's names and the date with a magic marker.
Artist's Studio and Gallery
The long stretch of summer allows children time to explore activities in depth. Challenge your budding Van Gogh by creating a dedicated space for art. Use old sheets for drop cloths and transform the back patio into an artist's studio. Hit the dollar store and load up a box or bin with supplies. Include washable water and finger paints, crayons, stickers, glue, and other assorted essentials like craft sticks, chenille stems, pompoms, googly eyes and plastic gems. Set up an easel and fashion a smock from an old button-down shirt worn backwards. Encourage your child to experiment with different techniques and textures. Paint on brown wrapping paper, cardboard, tissue paper or even a t-shirt. At the end of the season, string a clothesline to display the paintings and host a gallery opening. Invite friends and family and sip sparkling cider "champagne" while your guests admire the artwork and the artist.
Memory Maker: Use a clean pizza box to craft a sturdy portfolio to store the summer's work. Decorate with leftover art supplies and embellish with your child's name and age.
Janie is a middle aged homemaker and in her free time she writes for a variety of online publications on topics such as the earliest signs of pregnancy and how to calculate a due date.