Living with physical disability can be challenging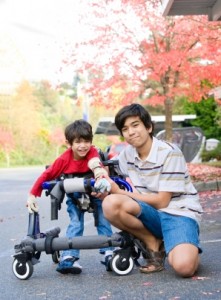 in all kinds of ways, but perhaps one of the most disheartening things new parents in particular can think is that their child will never be able to enjoy physical activity. This is simply not the case and physical handicaps are no barrier to a child enjoying all the benefits that healthy exercise and outdoor play can bring.
The importance of exercise for everyone has been emphasised in recent years as the problems associated with obesity and poor mental health become ever more widespread. Being physically disabled does not mean that a child cannot be affected by this kind of problem and being active is a natural and fun way of keeping issues such as this at bay.
Swimming
A swimming pool is one of the best places possible for physically disabled children to enjoy themselves. With proper support, whether from parents or from correctly trained professionals, children can get massive benefits from being in the pool. The water provides both support and resistance, giving a cardiovascular work-out as well as strengthening muscles. Being able to splash about and feel free in a way that is not possible on land is another great plus to using the swimming pool.
One of the best exercises for children with limited mobility to undertake in a swimming pool is modified swimming or water walking. This involves the child moving as best as they are able, usually with some kind of support and help, through the water. Even simple supported wading through the shallow end of the pool can bring great benefits to children, helping to boost muscular strength and keeping the cardiovascular system working well.
Games and Dancing
A wheelchair or similar does not mean that a child cannot get outside either. It is possible to play modified forms of most ball games with a group of children in wheelchairs, while moving and dancing to music is a great social activity as well as something parents can enjoy with children. Playing a modified form of volleyball with a lowered net means that children in wheelchairs can participate and able-bodied siblings and friends can sit on chairs to even matters up.
Using devices which offer support out of wheelchairs can also help with being more active. For example, paediatric walkers will often provide the right physical support for a child to be able to enjoy the fresh air and to feel some of the sense of adventure a walk brings. This can also help with some kinds of dancing. A parent or carer can help the child move in time to the music or demonstrate movements which the child can copy.
With some imagination, enjoying activity with a child who has different needs or is disabled is not a problem. The kind of smiles and laughter, fun and emotional release associated with being active is not out of reach for any child. With some planning and access to some basic facilities and equipment, children with physical disabilities do not have to be limited in how they play and let off some steam.
This guest post was written by Francesca, a freelance writer a blogger who enjoys writing about everything from health and fitness, to parenting and education. She writes on behalf of Quest 88.