Parents and teachers can do much more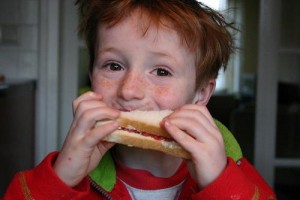 than drag out the Food Plate chart during National School Lunch Week, Oct. 10-14.
Thanks to the Internet, you can choose from a variety of online quizzes, interactive games, live events in your school and community, and even simple do-it-yourself "fun with food" experiments in your own kitchen.
Here are 12 ideas perfect for National School Lunch Week—and the other 51 weeks of the year, too.
1. "What's on Your Tray" Personality Quiz
What's on a lunch tray says a lot about a student's personality. The "What's on Your Tray" Personality Quiz will help you and your kids find out how their school lunch profile stacks up. Learn what foods are best to fuel youngsters and keep them healthy.
The online version of the quiz is available at www.WhatsonYourtray.org.
2. Rachael Ray's Healthy Lunches
The Alliance for a Healthier Generation teams up with TV personality Rachael Ray and her Yum-O! organization to provide recipes appropriate for school settings that are nutritious and delicious.
They recruited a team of food service directors to test each recipe in real school kitchens with real kids. Mexi-Mac & Cheese is just one of the recipes that got "thumbs up" from the supervisors and the kids.
3. Activities for Kids
Word puzzles, quizzes, how kids can grow beans, and more activities are available on a multi-page downloadable activity sheet from the School Nutrition Association at its SchoolNutrition.org website. The site contains a wide variety of information on National School Lunch Week, which is coordinated by the School Nutrition Association.
4. Share Videos from the Lunch Love Community
The Lunch Love Community Documentary Project explores this community-based school lunch reform movement, and how passionate and dedicated people coming together can change the way their children eat, how they think, and how they learn in school.
The project includes videos intended to inspire children to love nutritious food. You'll find the embed for six interesting videos that you can share on your Facebook page, website or blog. We loved the video of the science class experiment in which students burn a Cheeto to find out its rate of combustion.
5. Meet the Healthy Heroes
Let your kids meet Abe Apple, Bridget Banana, Owen Orange and the other Healthy Heroes, created by Quality Catering for Kids, which provides nutritious lunches for day care centers. Perfect for teaching toddlers in day care through second grade about good nutrition.
6. Cook with Your Child — Safely
This organization's two-page fact sheet provides ideas and food safety for working with young children in the kitchen. It includes a nine-point checklist of Kitchen Safety Rules for Kids and Families.
7. More Than Mud Pies
The nutrition education curriculum from the National Food Service Management Institute provides both staff and children with enjoyable activities that encourage positive ideas about nutrition and foods. The 54 lessons are built around the seasons of the year. Children can use these age-appropriate activities to learn about growth, nutrition and preparation of foods.
8. Quick! Make Good Dining Decisions
It's lunchtime. Your child is in the school cafeteria and needs to decide on a healthy meal. This interactive food nutrition game lets a student choose five lunch items from a conveyor belt and drag them onto a lunch tray, all within the allotted time, and before other kids grab the items your child wants. When done, click "Eat Now" and read about the results of the choices. This game is offered by the U.S. Department of Health & Human Services' Centers for Disease Control & Prevention.
9. Fun Recess, Lunch & Snack Ideas
If you're looking for some whimsical, nutritious recipes that look as good as they taste, check out the "Sushi" Sandwiches, Crunchy Dragonflies, Fruity Flowers and Strawberry Mice Chasing Cheese. They're part of The Sydney Markets Limited Fresh for Kids program that helps school-age children achieve a healthy lifestyle by encouraging them to eat plenty of fruits and vegetables, and get a lot of exercise.
10. Create a Team Nutrition Event
Even if you're on a shoestring budget, you'll find ideas galore for creating a Team Nutrition event for your children, classroom or school. The downloadable idea book lists 23 ideas for parents and children, teachers and students, and community programs and events.
Teach children how to make one-of-a-kind clay bowls to help raise money for hungry children around the world. Plant a school garden. Start a school Breakfast Club. Team Nutrition is sponsored by the USDA.
11. The Food Pyramid Quiz
The Food Pyramid is giving way to the new Food Plate, but the Pyramid is still valid and supports learning. Let your children take the online quiz to see how much they know about nutritious parts of meals. For the very young, check out the Food Plate coloring sheet.
12. Kitchen Chemistry for Kids
Teachers and parents who are looking for projects to introduce their students to the basic principles of chemistry, physic and biology can turn to the kitchen for inspiration. These 100 Cool Food Science Experiments for Kids have different levels of difficulty, materials and cost.
Elizabeth Hall works at Quality Catering for Kids, which caters nutritious, ready-to-serve meals to child care centers, preschools and private grade schools in northern Illinois and southeastern Wisconsin, www.qualitycateringforkids.com.