When you have a pool in your yard, it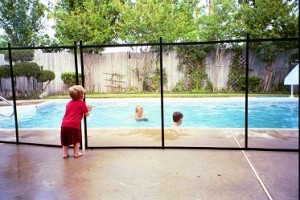 is important to ensure the safety of your children, as well as the other children in your neighborhood. In some states, a pool fence is a requirement. However, the expense of building a permanent fence around your yard or just your pool may not be in your budget. Instead, you can purchase and install a pool fence that will keep everyone safe, save money and easily retract.
Safety Features
When you install a pool fence, you can be assured that your children won't have access to the pool without your permission. A mesh fence may seem more unstable than a chain link or wood fence, but it can be even safer. Children can't climb up a mesh fence as easily as other types. It is also important to choose a fence that offers a gate that closes and latches itself so you don't need to worry about someone forgetting to close it behind them.
Convenience
A removable pool fence installs differently than permanent fences, making them easier to remove. You can easily put it up when the pool is not in use or you need to keep children out of the pool. However, if you will be having a pool party or want easier access to the pool, you can retract the mesh fence so it is out of the way. This will give you room for your party. When the party is over, move the pool fence back in place. When the fence is in place, it won't interrupt your view of the pool.
Durability
A pool fence made from mesh is durable and will last you a long time. In many cases, the mesh is specially coated to resist moisture and the development of mold. This means that your fence won't experience excessive wear and tear from exposure to the elements. This provides your fence with a longer life so you won't need to replace it in the near future.
A mesh removable pool fence can give you everything you want in a pool fence. It is durable and will last you a long time. It provides all of the safety features you can find in other fences without the permanent factor. You can easily remove it when you don't need it and put it back when you do.
Guest post provided by Viktoria – SEO and Internet Marketing Manager for Guardian Pool Fence Systems