Parker Carousel Horse - Jumper
home »
parker carousel horse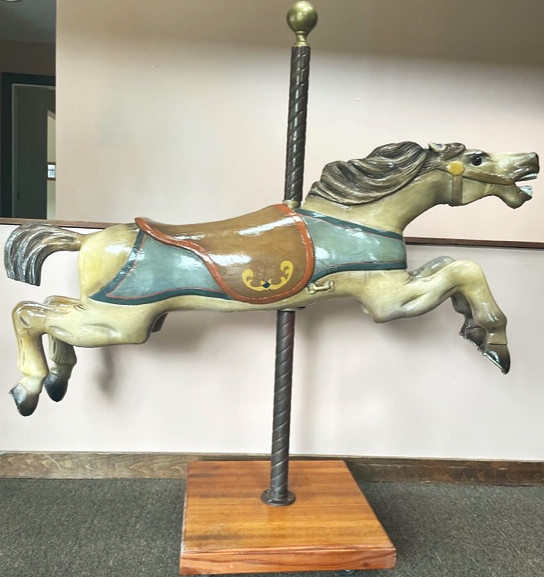 Circa 1910-1920 carousel horse from the renowned Charles Wallace Parker factory of Leavenworth, Kansas.
The horse displays an energetic 'jumping' posture, its outstretched neck and flowing mane, project a sense of motion that gives the piece a distinct life-like character.
Despite its age, the horse is remarkably complete and original, with no missing parts noted. Even the metal stirrup fasteners and metal shoes remain intact on this example. Such completeness is indicative of the horse's good condition and suggests the object has been well preserved over the course of more than a century.
Currently it resides in Tom's River, NJ.
Height (from floor) - 40 in.
Length (foot to foot) - 52 in.
Length (rump to bust) - 34 in.
Pole height - 54 in.
"My parents raised 10 children and the highlight of our summer was going to the Seaside Heights Boardwalk. After going on various rides all evening, we always ended the night by riding the Floyd L. Moreland Dentzel-Loof carousel (built in 1910) at least 4 or 5 times.
After raising his family, my father began collecting hundreds of small carousel memorabilia, artwork, etc, and these: O.C. Buck, Looff and the rocker are also part of his beloved collection."
~ Beverlee (current owner)