Late 1800s Charles Looff Carousel Horse
home »
looff carousel horse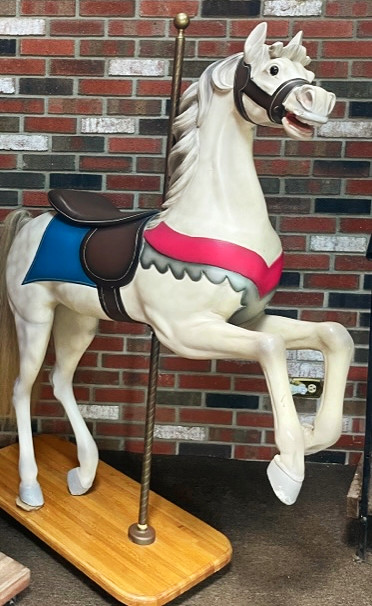 This delightful piece is an authentic late 19th-century carousel horse, handcrafted by the esteemed Charles I.D. Looff company of Brooklyn, NY. Looff is a pioneer in the field of carousel manufacturing in the United States and is well-known for his quality and the attention to detail in his work.
A couple of features of this 'middle row prancer' is its sweet face and flowing mane, which is indicative of Looff's distinctive style.
The horse is reported to be in 'very good' structural condition, a term that suggests a high level of preservation for an object of its age. No missing parts are reported, which speaks to the piece's well-preserved originality and enhances its appeal.
Currently it resides in Tom's River, NJ.
Height (from floor) - 61 in.
Length (foot to foot) - 32 in.
Length (rump to bust) - 38 in.
Pole height - 61 in.
"My parents raised 10 children and the highlight of our summer was going to the Seaside Heights Boardwalk. After going on various rides all evening, we always ended the night by riding the Floyd L. Moreland Dentzel-Loof carousel (built in 1910) at least 4 or 5 times.
After raising his family, my father began collecting hundreds of small carousel memorabilia, artwork, etc, and these: Parker, O.C. Buck and the rocker are part of his beloved collection."
~ Beverlee (current owner)