Contemporary Duplication of Anderson Juvenile Carousel Horse on Rockers in Resin/Fiberglass
home »
fabricon carousel rocking horse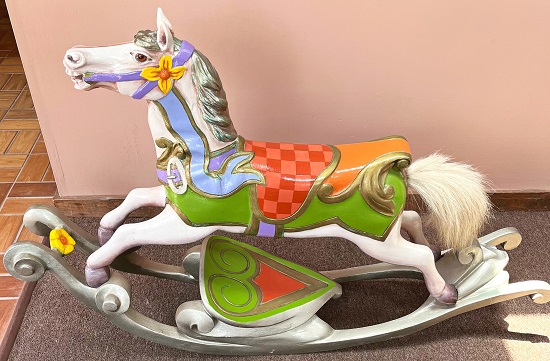 Measures: 37 in. x 39.5 in. x 8.5 in. (h x l x w)
Rockers: 57 in. x 11.5 in.
This modern decorative piece, created by the Fabricon Company of Brooklyn, NY, is a duplication of an antique Anderson juvenile carousel horse mounted on a fanciful rocker.
It has been meticulously adorned with classic British decorative elements that capture the essence of British equine elegance and show a commitment to replicating details found in historical carousel designs.
One of the signature highlights of this piece is the Scarlet Lychnis flower, depicted on the bridle. This exquisite floral touch adds a layer of sophistication and serves as an identifying mark of the design, connecting it to the rich history of carousel artistry.
Reported in very good condition, this piece appears to have been well cared for, retaining the vibrant colors and delicate features that make it attractive.
Incribed on the belly: "AB Briggs ©1990 cast by Fabricon NYC"
It takes up residence in Tom's River, NJ.
"My parents raised 10 children and the highlight of our summer was going to the Seaside Heights Boardwalk. After going on various rides all evening, we always ended the night by riding the Floyd L. Moreland Dentzel-Loof carousel (built in 1910) at least 4 or 5 times.
After raising his family, my father began collecting hundreds of small carousel memorabilia, artwork, etc, and these: O.C. Buck, Looff and Parker are also part of his beloved collection."
~ Beverlee (current owner)