Oscar Buck Carousel Horse
home »
buck carousel horse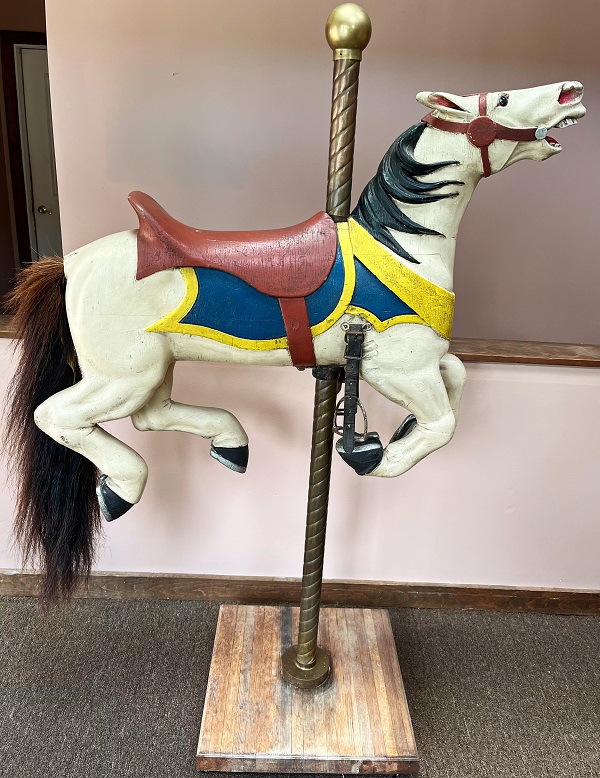 Carousel horse appraisers wore torn on whether this horse was made by Stein & Goldsten, Illions or O.C. Buck. I appreciated Dale Docter's assessment.
"This could be a stab in the dark and still be a miss. There are traits like the head shape and the C-shaped flow of the mane that are similar but different to Stein & Goldstein. Their shop never had an undershot jaw like this. Illions did do the undershot jaw for a time. The ears and hind legs, the similarity to S&G and Illions make me think this is an Oscar Buck carving. Stories are that Buck worked in Looff's shop alongside Illions, Stein, Goldstein, and Charles Carmel. When he left the Looff shop around 1903, he took their styles with him to create his own blended style. Yours just resembles something he'd have done. Let's see how others weigh in."
O.C. Buck, a lesser-known but nevertheless influential craftsman in the golden age of American carousels, likely made this 'jumper' style carousel horse.
The tail is made of actual horse hair. Despite its age, the horse's good condition suggests it has been well preserved.
Currently it resides in Tom's River, NJ.
Height (from floor) - 40 in.
Length (foot to foot) - 31 in.
Length (rump to bust) - 32 in.
Pole height - 62 in.
"My parents raised 10 children and the highlight of our summer was going to the Seaside Heights Boardwalk. After going on various rides all evening, we always ended the night by riding the Floyd L. Moreland Dentzel-Loof carousel (built in 1910) at least 4 or 5 times.
After raising his family, my father began collecting hundreds of small carousel memorabilia, artwork, etc, and these: Parker, Looff and the rocker are also part of his beloved collection."
~ Beverlee (current owner)