S&S Woodcarvers Rocking Pony
home »
s&s woodcarvers rocking pony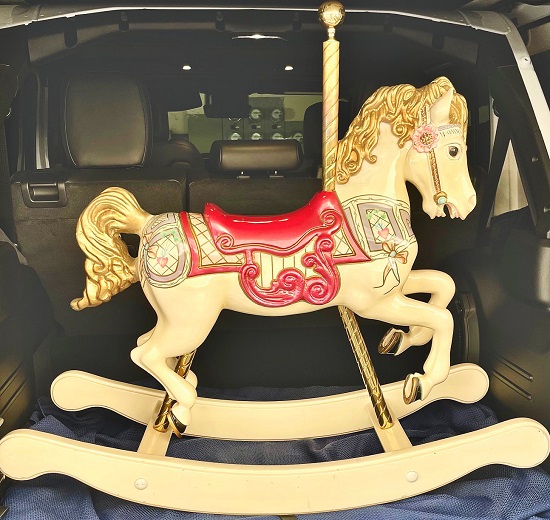 Rocking horse measures: 32 in. x 31 in. x 15 in. (h x l x w); Floor to saddle: 24 in.
Rockers: 39 in. long, Floor to top of pole: 37 in.
This small size rocking horse is made from solid wood with rockers, brass pole and hand painted by Oy Tongaxi in 1991.
Made by S&S Woodcarvers of Santa Ana, CA, this design is Diana's Small Rocking Carousel Pony. The pony is in a jumping pose featuring a red saddle on a blanket with a red fringed border. It has a nice carved mane, tail and flowers on it's reins on either side of its head.
The rocking horse has a few minor nicks on the rockers from normal use, a small area of missing paint on the saddle and mark on its nose (all details are clearly visible in the images). This rocking pony is in very good condition!
It takes up residence near Huntington Beach, CA.
~ Aaron (current owner)