Handcrafted Motorcycle On Rockers
home »
motorcycle on rockers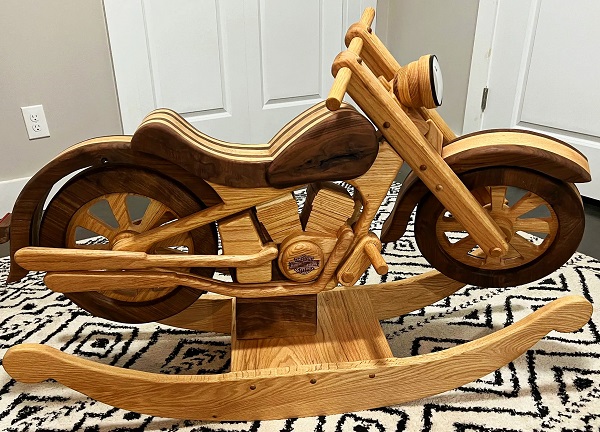 $1500
Free shipping in metro Atlanta
Measures: 30 in. x 48 in. x 14 in. (h x l x w); weight: 68 lbs.
Introducing our exquisite handcrafted rocking motorcycle, designed especially for your little adventurer! Inspired by the iconic Harley Davidson Motorcycle, this stunning piece of craftsmanship captures the spirit of the open road and brings it right into your home.
Crafted with meticulous attention to detail, our rocking motorcycle is made from the finest red oak and walnut woods, chosen for their durability and rich, warm tones.
To ensure the longevity of the rocking motorcycle, we have applied a beautiful finish of Danish oil. This finish not only enhances the natural beauty of the red oak and walnut woods but also provides protection against wear and tear.
The wheels and forks are engineered to rotate smoothly, adding an extra element of realism and interactive play.
We understand that children grow quickly, which is why we've incorporated adjustable foot pegs into the design. As your child grows taller, you can easily modify the position of the foot pegs, ensuring a comfortable and ergonomic fit for years to come.
The design faithfully replicates the distinctive features of a Harley Davidson Motorcycle, from its sleek and powerful frame to the iconic Harley logo. Every curve and contour has been expertly carved and shaped to create a visually stunning and realistic representation.
Whether you're a motorcycle enthusiast or simply appreciate fine craftsmanship, our rocking motorcycle is a true masterpiece. It's a gift that will be treasured for generations, an enduring symbol of freedom and adventure. Give your child the thrill of the open road with our handcrafted rocking motorcycle today!