Relko Rocking Horse "Lord Nolan"
home »
relko rocking horse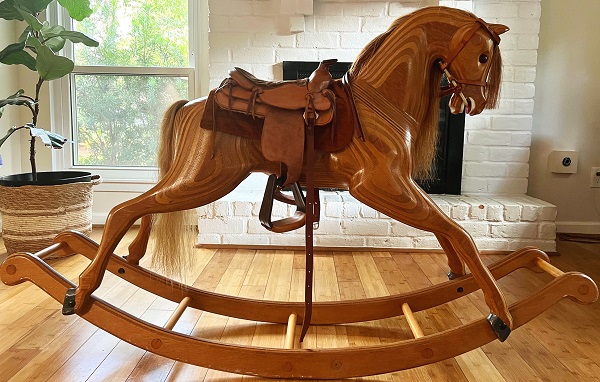 Measures: 37 in. x 39.5 in. x 8.5 in. (h x l x w)
rockers: 57 in. x 11.5 in. (l x w)
Crafted with care and attention to detail, this Relko rocking horse captures the essence of equestrian elegance in its design. Its sleek wooden form is a testament to the artisan's dedication to authenticity and artistry. Made in 1986 by the Relko Rocking Horse Stud company based in Yarde, North Bovey, Devon, England.
Yes, that is a real leather horse saddle, horse hair for the tail and mane and the reins are ready for the next rider.
Standing at a height of 7.2 hands high (hh) with a certificate of registration in the Rocking Horse Stud Book, number 433, and bearing the distinguished name "Lord Nolan," this rocking horse has minor wear from normal use. All details are clearly visible in the images. This rocking horse is in very good structural condition.
It takes up residence in The Woodlands, TX.
"I received Lord Nolan as a young boy. I lived in a small Texas town, and this horse was the perfect addition to days when I would pretend to ride out west as a cowboy. It would be the perfect gift for any young boy or girl who loves horses. The saddle in particular makes it feel like the real deal!"
~ Jason (current owner)