Floral Horse On Rockers
home »
floral horse on rockers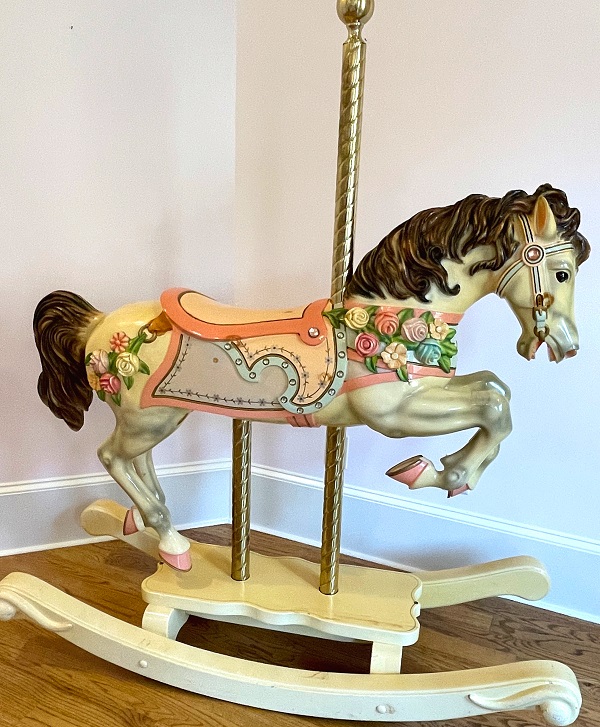 Measures: 50" x 55" x 21" (h x l x w), weighs 100 lbs.
Floor to top of brass pole: 65.5"
This is a full size carousel rocking horse in a jumping pose, made from solid wood with carved flowers, wooden base, rockers are removable, brass pole and hand painted.
Trappings are composed of a simple saddle with notched flap resting on a bordered saddle blanket, a deep breastband having slipped and leaved roses carved in high relief and complementary roses depending from the saddle cantle. A buckled bridle with glass jewel restrains the head.
The horse was made by S&S Woodcarvers of Santa Ana, CA.
This carousel rocking horse has minor defects, some wood knots showing through, marks on the rockers from normal use, no missing jewels (all details are clearly visible in the images). Overall the horse is in very good condition!
It takes up residence in Johns Creek, GA.
"I think she's beautiful! I think of her as 'Rosie' - obvious connection, I suppose, with the carved roses all over her. Her eyes gleam bright and her 'gems' sparkle!
Our grandchildren have enjoyed riding her - their eyes flew open wide and lit up with excitement when they first met her. Having downsized our home, it is time for her to have a new chapter in her life."
~ Patti (current owner)