Diana's Large Rocking Horse
home »
diana's large rocking horse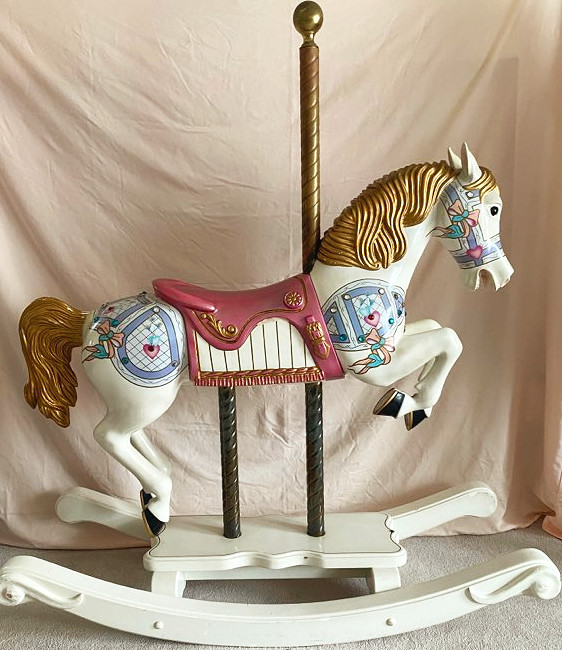 Measures: 53 in. x 55 in. (h x l)
Rockers: 58 in., top of brass pole: 67 in., floor to saddle: 40 in.
This is a full size carousel rocking horse made from solid wood with wooden base, rockers, brass pole, jewels and hand painted by Casero in 1994.
Made by S&S Woodcarvers of Santa Anna, CA. This design is Diana's Large Carousel Horse On Rockers; Diana Ross bought a rocking horse from the company years ago, one of the early celebrities to buy from S&S Woodcarvers.
This rocking horse has some missing paint on the rockers and tail from normal use and two missing jewels. All details are clearly visible in the images. This rocking horse is in very good condition!
It takes up residence in Griffin, Georgia.
"Saw the horse in an Antique Store while making a random stop, traveling thru Victorville, Ca in the early 90's. Fell in love with the Carousel horse. Little, did I know, that the horse would show up several months later at my house, for a SURPRISE birthday present for me.
My hope is, that the horse goes to someone that will enjoy the beauty of this horse and gets many years of enjoyment, owning it, just as I have. My 'Pink Beauty' has giving me precious memories and pride of ownership for the past 30 years."
~ Elsa (current owner)