Diana's Large Carousel Horse On Rockers
home »
diana's large rocking horse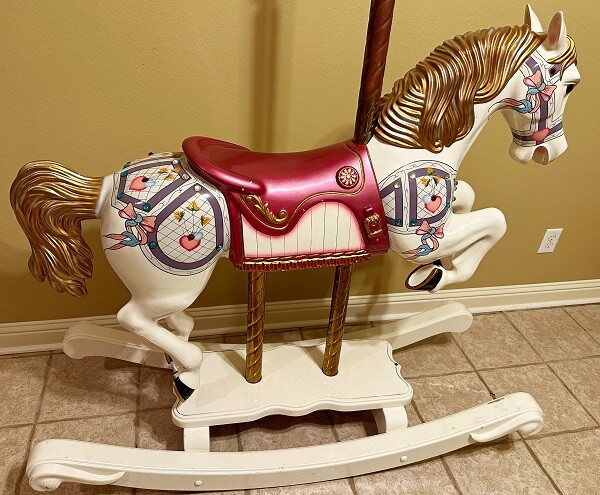 Measures: 52 in. x 58 in. x 12 in. (h x l x w)
This is a full size carousel rocking horse made from solid wood with wooden base, rockers, brass pole and jewels, likely in mid 1990s.
Made by S&S Woodcarvers of Santa Anna, CA. This design is Diana's Large Carousel Horse On Rockers.
This rocking horse has minor missing paint on the tail, saddle, the rockers are marked a bit from normal use and two missing jewels. All details are clearly visible in the images. This rocking horse is in good condition!
It takes up residence in Sugar Land, Texas.
"We bought this horse from a Collectors store in New Orleans when our second daughter was born, in 1999; our first daughter had a similar carousel horse. Both horses were always a hit with the girls and their friends over the years."
~ Jerry (current owner)