Diana's Carousel Pony
home »
diana's carousel pony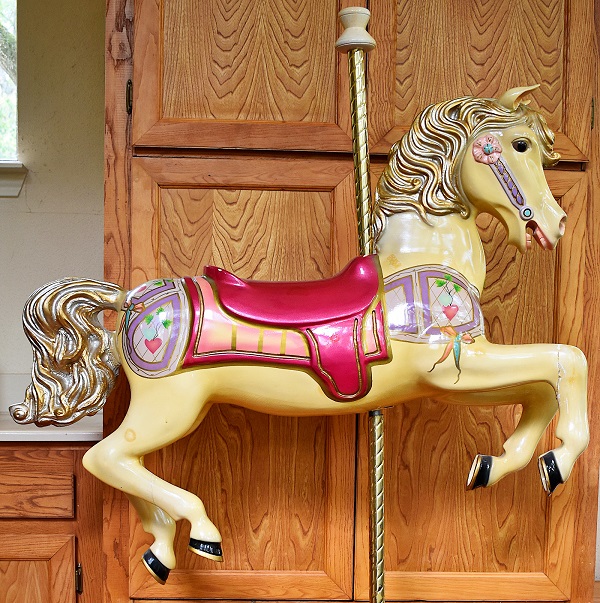 Carousel horse measures 62 in. (height from floor to top of head) x 42 in. x 8.5 in. (h x l x w)
Top of pole: 67 in. high
This carousel horse is very similar to Diana's Medium Rocking Pony design built by S&S Woodcarvers, yet it is an S&S Woodcarvers carousel pony. The horse is in a jumping pose although it was never part of a carousel. During a move the right front and right rear legs broke, but both have been repaired. It is in good condition, all details are clearly seen in the images.
It takes up residence in College Station, TX.
Nancy: "This was a special surprise from my husband. We had built our first home and had the perfect place to showcase the beautiful carousel horse. I had fallen in love with it the first time I saw it! The color, the romantic whimsy, and beauty of the pony made me feel happy and joyful! It became the theme of 'family pictures', lots of great memories."
"My friend Nancy downsized and could no longer care for this sweet pony. As the foster mom, I am looking for her forever home. Like many of us, she is not perfect with 2 broken legs and a few nicks and blemishes. But I know that somewhere there is the perfect family for her who will love her vibrant colors and amazing workmanship."
~ Wendy (current owner)