French Blue & Rose Rocking Horse
home »
french blue & rose horse on rockers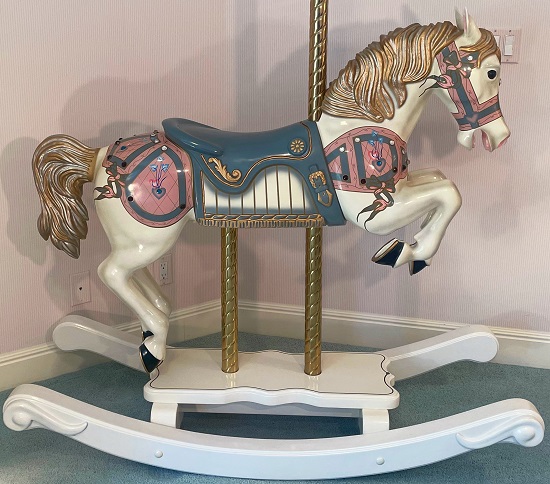 Measures: 54 in. x 52 in. (h x l)
Rockers: 55 in., top of brass pole: 65 in.
This is a full size carousel rocking horse made from solid wood with wooden base, rockers, brass pole, jewels and hand painted by Gabriel in 1993.
Made by S&S Woodcarvers of Santa Anna, CA, this design is known as the French Blue & Rose Large Horse On Rockers.
This carousel rocking horse has no defects, no scuff marks, scratches or missing paint; all jewels are in place. All details are clearly visible in the images. This rocking horse is in pristine condition, like brand new. It's never been used as a rocking horse, but for decoration only, so no wear and tear!
It takes up residence in Los Altos, CA.
~ Carol (current owner)