Blackie Rocking Horse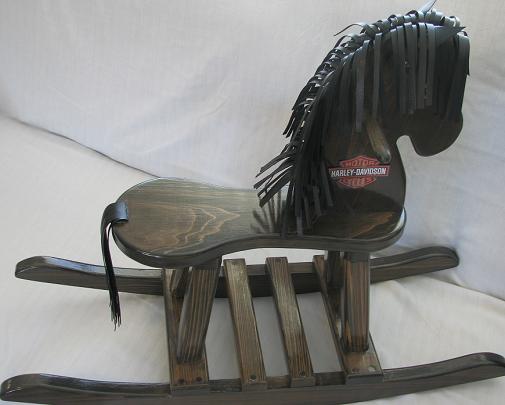 Blackie is his name.. Maybe a Baby Bikers first ride.. Finished in a wash black color and poly coated to bring out the beautiful grain of the cypress. The finish has an almost camo green sheen that shines. It has a mane and tail made of fringed "pleather," giving him a real Attitude. The decal shown is an option (at no charge) - however, it is not included unless you request it.
This is a solid wood rocking horse with a cute pony face. These are built one at a time in the Old Rebel Workshop and can become family heirlooms. The dimensions are 30" long X 23" high X 10" wide - very stable for a child as young as 1 to 1-1/2 years and the size still suits up to age 4 or more.
This ready-to-ride horse is finished with a black wash over solid cypress wood. The cypress shows a real variety of grain patterns and colors with this stain. You can see the button eyes and the pointy ears. Added center cross pieces on the rockers make it easier for a younger child to get a great ride. And the 30" rockers mean an older child will still enjoy it.
If you are a Harley Davidson fan or rider, what better way to start'em young..