Carousel Rocking Horse by Art Carvers
home »
carousel rocking horse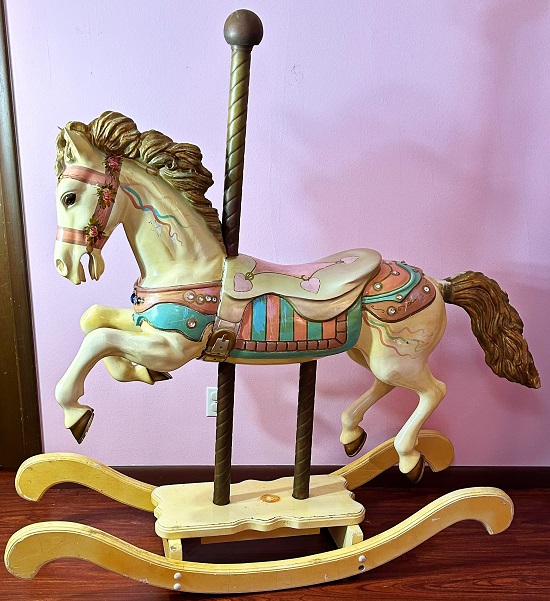 Measures: 52 in. x 56 in. x 19 in. (h x l x w)
top of brass pole: 63 in.
This is a full size carousel rocking horse made from solid wood with wooden base, rockers, brass pole, jewels and hand painted by G. Liepolo. Made by Art Carvers.
This carousel rocking horse has scuff marks, scratches, missing paint, but all jewels are in place. All details are clearly visible in the images. This rocking horse is in good structural condition.
It takes up residence in Joplin, Missouri.
"It was purchased in Baxter Springs, Kansas at a thrift store. It was in the window display and we made a offer before the store even opened for it's first day. It was bought for my daughter, for her nursery. It has been displayed in her room for 8 years. It takes a lot of space and now that she's older, she's ready to part with it. We love it dearly but it is time for it to bring joy to someone that will treasure it."
~ Kelsey (current owner)