Allan Herschell Carousel Horse 1/2 and 1/2
home »
allan herschell carousel horse 1/2 and 1/2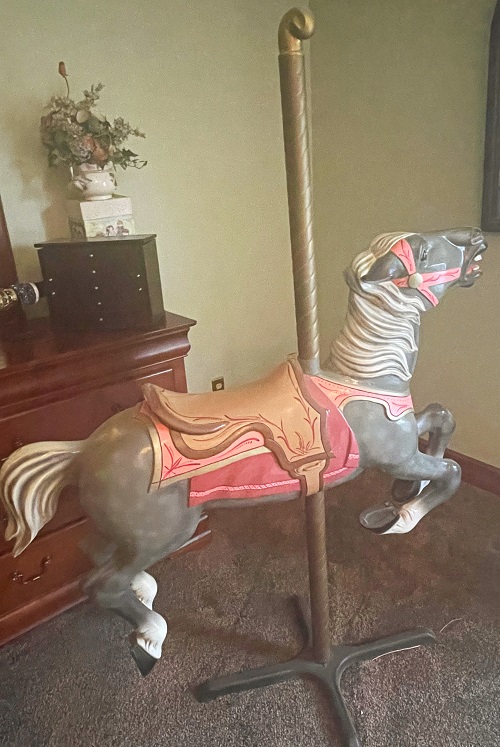 This jumper carousel horse, circa late 1920s, was made by the Allan Herschell carousel factory in North Tonawanda, NY.
The horse is known as a 1/2 and 1/2, meaning the body is wood but the head, legs and tail are metal. This design made the carousel horse more durable for the traveling carnival operators and thus more economical.
This Allan Herschell carousel horse has been lovingly restored to its former glory. With its vibrant colors, elegant design, and sturdy construction, it's sure to be the centerpiece of any collection or display.
In a jumping pose with lifted head and open mouth, the horse is in very good condition without missing parts and minor wear. Currently it resides in Temperance, MI.
Height - 38 in.
Length - 46 in.
Pole - 67 in.
"I purchased this when I was pregnant with my now 25 yr old daughter. I am a horse trainer so I was sentimental when I saw it. My husband recently retired and we are considering a down size so sadly I need to look at selling this piece."
~ Donna (current owner)