Allan Herschell Carousel Horse - Jumper 2
home »
allan herschell carousel horse - jumper 2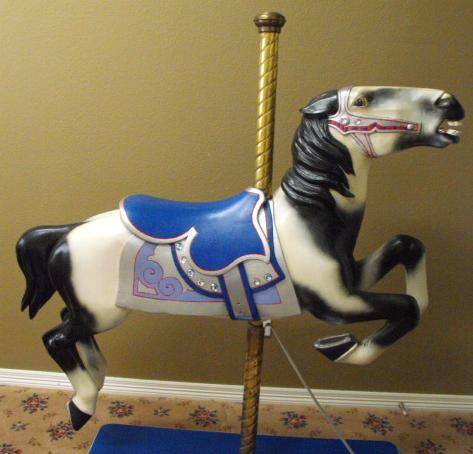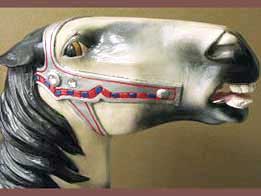 Carved by the Allan Herschell company, circa 1926, and professionally restored in 2010.
This carousel horse measures 42" X 52" and is mounted on a stand with a brass pole; it's from a three-row carousel from Wisconsin Dells, Wisconsin. Only two carousels were made with these large outside row horses (this is one of three I own). These carousel horses are all wooden and have been professionally restored.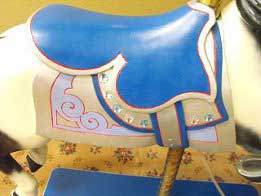 They were bought originally from the Wisconsin Dells amusement park by a collector in Oklahoma City in about 1983. In 1995 this owner advertised these horses for sale in the Antique Trader. I answered the ad and discovered the owner was a guy I went to high school with who I had not seen in 30 years. He taught me a great deal about carousel horses and I bought this one and two other carousel horses from him (Jumping horse 1 and Jumper 3).
Since then they have been displayed in my den and have been the subject of many interesting conversations. These are antique treasures that bring back memories of the days when I rode the carousel as a kid.
~ James (current owner)