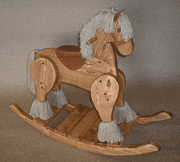 It's Mommy month (Mother's Day month) and we're giving away the Big Clyde Rocking Horse. The Big Clyde has more bulk to make him look like the true working horse (the Clydesdale). The dimensions of Big Clyde are 34″ tall, 43 1/2″ long, 14 1/2″ wide and the saddle is 24″ above the floor.
The price tag on Big Clyde is currently $239.95, but you can win him (including free shipping) if your entry is drawn on June 9.
How do I enter to win?
Go to Second Time Around's Birthday Bash, read the review or scroll down to the Giveaway and follow the instructions for entering and for getting multiple entries!